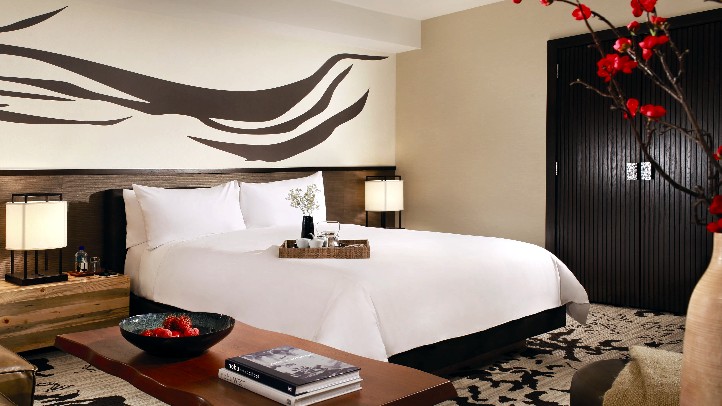 TAKING RESERVATIONS: When it was announced in the spring of 2011 that Nobu Matsuhisa would be helming a new hotel in Las Vegas, headlines were made. After all, it wasn't every day that an acclaimed chef made the jump to hotelier. And it wasn't every day that a hotel finds its style inspirations in an existinggroup of acclaimed restaurants. And it wasn't every day that an existing tower at a landmark hotel would be remade to be, if not a hotel within hotel, then a hotel unto itself. There were a number of fascinating things about the story, which is now wrapping up its first chapter, if the first chapter is the time before its grand debut: Nobu Hotel at Caesars Palace will open at the beginning of February, with a soft open at the end of 2012. Moreover, reservations are now being accepted.
WORLD'S FIRST/LARGEST: Like any good Las Vegas tale, there are a few out-sized facts with Nobu Hotel. It's the first in the world, which makes sense, because most celebrity chefs are concentrating on opening new restaurants, not hotels (we're not saying they don't want to, but that is still the exception). And the other interesting bit? The Nobu Restaurant and Lounge the world's largest (you may have been to one already in Malibu, Mexico City, Hong Kong, or the other major cities that are home to Nobus). And by world's largest Nobu we're talking large: It'll cap out at over 12,000 square feet. Oh Vegas, we love you.
Worth The Trip
Our daily look at deals and getaways
OTHER EXTRAS: Nobu signature hot tea upon welcome, a mini bar with items selected by Chef Nobu, and an all-hours Nobu room service menu.
Copyright FREEL - NBC Local Media