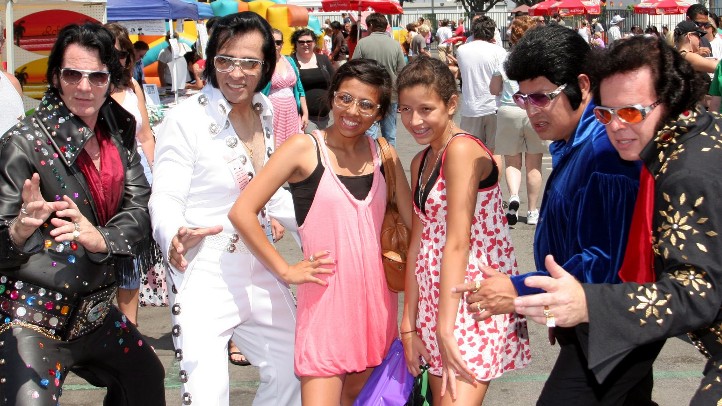 TWO TRICKS: How does one pull off the perfect Elvis look? We speak as a fan of both The King and those who came after, but it seems to us there are two rules one must adhere to: Make the hair big and make the outfit sparkle. Yes, you can add on sunglasses and yes, the hip position and finger point and additional cape are all very important. But without the high hair and the right get-up, your King is a little can't. Some of the most impressive Presleys in the region, though, tend to gather in one spot on one special day of the year. It comes in August -- a month of memory for devotees, as the Mr. Presley died in August of 1977 -- and it lands in Costa Mesa, at the OC Marketplace. It's the succinctly named Elvis Festival, and it is set to swing its hips and say "thank you, thank you very much" on Sunday, Aug. 25.
RETRO ROSTER: There shall be tribute performances -- of course -- and there will be people dressed in white jumpsuits and big belts -- of course -- and there are plentiful stylistic touches from the era which saw "Jailhouse Rock" and "Suspicious Minds" take the charts. But the Elvis Festival, which celebrates its 14th year this year, has few new surprises up its sequin-bedecked sleeve. One is the "Big Love Equals Big Hair" competition. Yep, the higher your pompadour, the greater your chances of nabbing "cash awards, trophy, and prizes of Suavecito Pomade and Retro-Dos." Sweet. There's also going to be a brand-new "King of Cadillacs" Car Show. Elvis was known for gifting Cadillacs, so the tribute is definitely an apt one, and sure to be popular with the auto aficionados.
And if you happen to be in Palm Springs the night before the fest, make for the Elvis Honeymoon Hideaway. Tribute artist Travis Powell will perform and plenty of Presley buffs'll be in the audience. Meaning you can try out your high hair-do and big-buckled jumpsuit before the festival itself.
Copyright FREEL - NBC Local Media