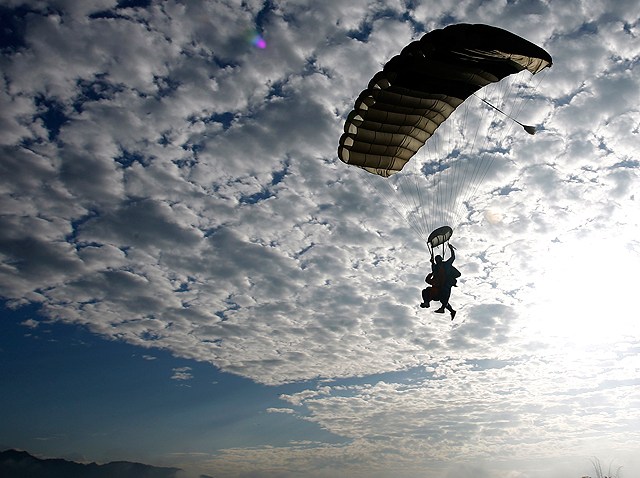 You don't need to travel far for an exhilarating experience. Skydiving facilities in San Diego offer thrills that you will remember for a lifetime.
PACIFIC COAST SKYDIVING: Offering student discounts, military discounts, and a video of your jump, Pacific Coast Skydiving is the only drop zone in San Diego that offers RVT Video Technology and scenic flights over the Pacific Ocean.
Here, you can feel what it's like to freefall at 120 miles per hour over Imperial Beach, all while getting an aerial view of Downtown San Diego, Baja Mexico and Coronado Island.
The skydive includes about 45 seconds of freefall, followed by five to seven minutes of parachute gliding.
First Timers: If jumping tandem has been the only thing holding you back from your first skydiving experience, at Pacific Coast Skydiving, you can jump solo. For the best view, best price, and best scenic skydive, you can take their Accelerated Freefall Program, and get certified to jump solo.
Skydiving Deals: Every Monday, you can jump for as low as $179. This is substantially cheaper than most other skydiving prices.
Make the Leap: Opened seven days per week, Pacific Coast Skydiving will cater to anyone under 230 pounds and 18 years or older. You must show up a half hour early so that you can fill out paperwork and meet your instructor. Pacific Coast Skydiving is located at the Brown Field Airport in San Diego at 6810 Curran Street San Diego. Call anytime from 8 a.m. to 11 p.m. at (619) 661-0194 to reserve your jump today, or visit Pacific Coast Skydiving's website for more information.
SKYDIVE SAN DIEGO: Located in Jamul, Skydive San Diego is "worth every penny," said insiderpages.com. Utilizing the newest, safest, and largest skydiving planes in the industry, Skydive San Diego makes it possible to freefall with as many as 23 of your friends.
The Facility: Skydive San Diego contains several training buildings, a bunkhouse, exclusive packing lofts, a huge grass landing area, and even a barbecue deck and patio. At this particular skydiving facility, you can take off and land in the exact same area, making it easy for friends and family to watch.
First Timers: From an altitude of 13,000 feet, you can tandem skydive for your first time for $249, or even jump on your own for $339. Upon your first jump, you will experience five to seven minutes of parachute gliding. You will also receive a First Jump Certificate. Basic videos and deluxe videos of your jump are also available for purchase.
An Accelerated Freefall Program is also available at Skydive San Diego if you wish to jump your first time solo.
Skydiving Deals: If you are looking for a good excuse to try skydiving for the first time, sign up for NBC 7 San Diego's new audience reward program, The Goods. Each week, The Goods sends out special offers on local activities, such as skydiving and kayaking, so keep your eyes peeled for the next time The Goods features a skydiving promotion.
Make the Leap: Skydive San Diego is located at 13531 Otay Lakes Road Jamul, CA. Call 619-216-8416 to reserve your jump today, or visit its website for additional details.