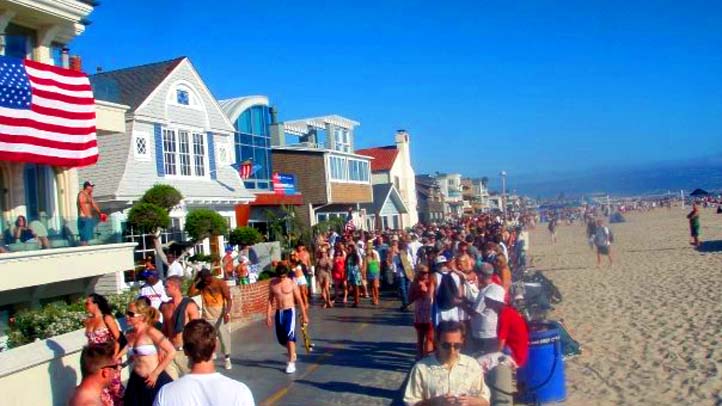 Independence Day is celebrated all over the country, so why limit yourself to San Diego's festivities alone?

Take a look at this list of fun places that are worth visiting, and celebrate the 4th of July differently this year.

Huntington Beach: Since 1904, the Surf City Fourth of July Parade and Celebration has been a prominent tradition in Huntington Beach, California. As the annual celebration enters its 107th anniversary, you can experience what the Fourth of July is like in a happening beach community. The Surf City Fourth of July Parade and Celebration features a five dollar Lake Park breakfast from 6:00 am – 10:00 am, a 5K run from 7:00 am - 12:00 pm, a Fourth of July Parade from 10:00 am - 12:00 pm, and the famous Surf City fireworks on the pier at 9:00 pm. Learn more about this three-day celebration at http://www.ci.huntington-beach.ca.us/announcements/announcement.cfm?id=322.

Disneyland: It has probably been a while since you and your family have visited the happiest place on Earth.This Independence Day, Disneyland will be packed with parades, shows, events, and fireworks. On the Fourth of July, the show "Fantasmic!" will be performed on the Rivers of America at Disneyland. Starring none other than Mickey Mouse, "Fantasmic!" is a gigantic water show that features enormous sky-high fireworks.
The main spectacle begins at 9:30 pm, where the official Fourth of July Concert in the Sky will be loaded with gigantic fireworks. This event will take place in the skies above Disneyland Park. Book your visit today at http://disneyland.disney.go.com/tickets.

Alcatraz, San Francisco: If you are looking to have a more intimate Fourth of July, look into the Fourth of July Dinner Dance & Fireworks Cruise in San Francisco. Equipped with free-flowing champagne, live music, dancing, and a four-course meal, you can watch San Francisco's fireworks in style. Check out the menu, itinerary, and more on the dinner cruise at http://www.alcatraz.us/?event=offer.detail&offerId=3718, or call 1-800-410-8233.

Pasadena's "Americafest 2011": Thanks to PyroSpectaculars by Souza, Americafest 2011 will be the holder of the largest firework show in Southern California. Americafest 2011 begins at 2:00 pm on the Fourth of July at the Pasadena Rose Bowl. This family-friendly festival is complete with a food court, performances by Dean Torrence, Mariachi Divas, a motorcycle stunt show, and tons of fireworks. Tickets are $13, and children under the age of seven, as well as active military service members get in for free. Fireworks begin promptly at 9:05 pm. For more information, please visit http://www.rosebowlstadium.com/RoseBowl_Americafest.php.

The South Bay: For the South Bay--Redondo Beach, Hermosa Beach, and Manhattan Beach, California-- the Fourth of July is one of the most anticipated and celebrated times of the year. This beach community in particular celebrates our country's independence to the highest degree. In this particular area, locals and visitors alike begin celebrating around 10:00 am, and everybody dresses up in patriotic beach attire. Even though the bars and restaurants on the Hermosa and Manhattan Beach piers will be completely packed, the strand and beaches are where the true celebrating takes place. Fireworks will be launched from the Redondo Pier in the evening.
As traditional as the 4th of July may seem, this year, it does not have to be.