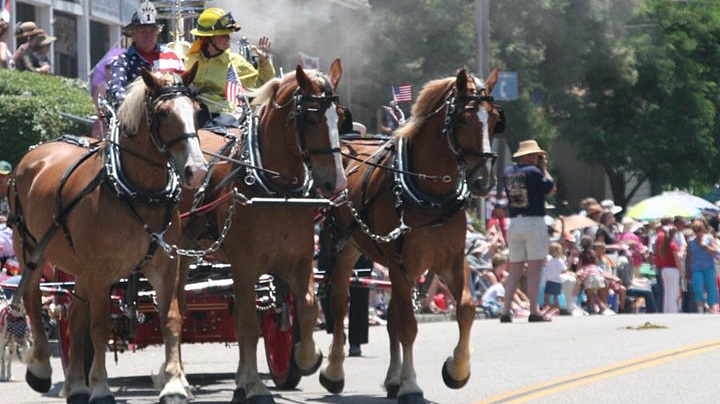 SMALL TOWN SWEET: Holidays and nostalgia go hand-in-hand, or, perhaps, hand-on-flag, as is the case with the Fourth of July. Sure, we definitely like big, high-tech pyrotechnic shows presented over the ocean, and planes flying by, and streams of red, white, and blue swirling from those planes' tails. But people tend to crave a more intimate Independence Day experience, an experience that isn't too easy to find in some place. We speak of the hometown-style parade, the through-the-center-of-town stroll that is depicted in every movie that takes place on the Fourth of July. (Seriously, there must be some sort of movie law that decrees this, even if it is set in a major city.) But where does one go for kids sitting on curbs, holding balloons and waving at horses as they clip-clop by? There are several good SoCal choices, but for the parade with a Gold-Rush-y pioneer twist, make for Apple Pie Central.
WHICH IS... Julian, of course. The Old West burg runs a photo-perfect Fourth of July event year in and year out, and Thursday, July 4 will offer the same. Antique tractors'll roll -- ohhhh yeah -- and Uncle Sam and Buffalo Bill will make cameos. Plus veterans, fire fighters, and bands. And bunting. Can we talk about Julian's bunting come the Fourth of July? This town knows how to properly festoon a picturesque 18th-century building, that is for dang sure.
TIME AND DETAILS: You have the date, of course, but the time? High noon. Place? Main Street, naturally. A barbecue will follow, but, yeah, you're going to want to buy a slice of apple pie, given that a) this is Julian and b) apple pie and America go hand-in-hand. Or, uh, hand-in-fork.
Copyright FREEL - NBC Local Media