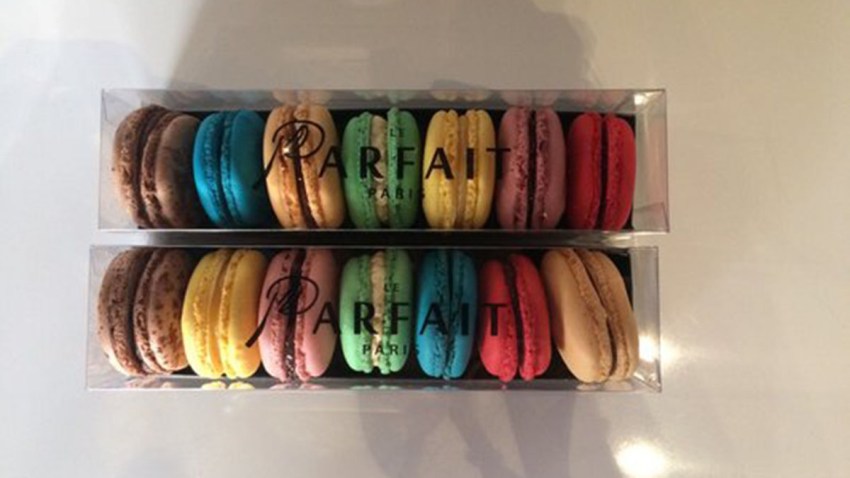 In case you can't snitch some candy from your kid's trick-o-treating bag, be sure to go out and grab some treats for yourself this Halloween weekend. We've got a list of local haunts with menus to please the grown-up palate, brought to you by Yelp.
Le Parfait Paris, Downtown
The stunning creations here are perfect for an All Hallows Eve-indulgence. Stop in for some French Macarons, a perfectly inspired pumpkin with adorable décor and delicious traditional flavors like Framboises (raspberry), bacon and citron (lemon). There are also plenty of petit pastry creations and they're open until the witching hour of midnight on the weekends!
The Scene
Food. Fun. Lifestyle. Features. All in America's Finest City.
Northern Spirits, San Marcos
The only thing that haunts this inland joint is a cocktail menu full of exotic flavors and spooky spice. Order up a Far East Martini garnished with lemon grass or a Chili Mango Martini made with vodka, mango puree, agave and fresh chili – perfect for taking the edge off that creepy Freddy Krueger movie.
Werewolf, Gaslamp
Why Werewolf? The website explains: "Maybe cause ownership is hairier than the average person. Maybe cause werewolves generally like to be even keel during the day and rage at night." Sounds like the perfect spooky weekend choice to us! Go for a drink in honor of Brad's Dead Grandpa: A white Russian with a root beer schnapps float with an order of garlic fries or grilled garlic ginger wings.
Cusp, La Jolla
The view is a treat in itself. Grab a Fear and Loathing libation made by mixologist Nate Howell: It's a concoction of rum, chinato, 15-year Drysack Oloroso Sherry, hickory smoked Mexican cola syrup and bitters. On the dining side, Chef Donald holds happy hour from 4 p.m. until 7 p.m. daily with menu items priced at only$5. Try the chicken fried chicken skins with honey chile paste or the daily ceviche.
Vintana Wine + Dine, Escondido
Vampires and werewolves can relax on the lanai; you'll have the perfect Halloween view to howl at the moon. If you can go out in sunlight, happy hour goes from 2 p.m. until 6:30 p.m. each day and features seven items for $7 each. And the vodka bar is open all the time, so you can get a signature cocktail as your Halloween treat. We recommend a fall favorite, the Spiced Creamsicle with vanilla and Clementine vodka, orange cream and cinnamon.
The Land and Water Co, Carlsbad
This historical building isn't full of ghosts (that we know of) and there's more flavor than spook in their small plates/tapas menu. Go for the Finger Roll (un-severed) made with sashimi poke, cucumber wrap, Hass avocado, bonito flake and house-pickled ginger or stab a Crispy Beef Skewer: created with 5-hour braised lengua, pickled daikon, tsume and horseradish whipped Japanese style mayo.

Trish Sanderson is the community manager and marketing director for Yelp North County San Diego. She leads the local community of Yelp reviewers both online and off.