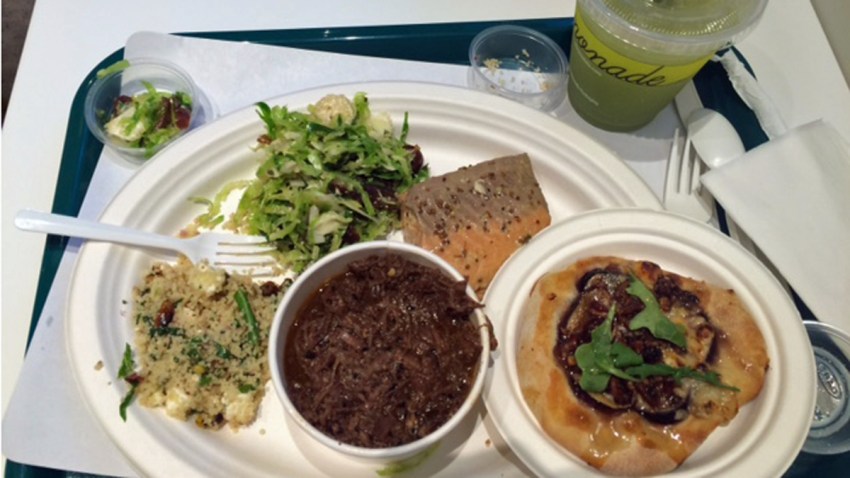 A casual, cafeteria-style eatery has just opened up shop in San Diego's hip Hillcrest neighborhood and it's safe to say, this isn't your grade-school lunchroom.
Lemonade – a popular Los Angeles-based restaurant – expanded into San Diego this week with a new location at 3958 Fifth Ave. The company will open a second eatery locally on Aug. 12 at Westfield UTC in La Jolla (4545 La Jolla Village Dr.).
The eatery serves seasonal "California Comfort" food, boasting a long lineup of healthy, freshly-prepared dishes that are easy to grab when you're pressed for time. Of course, everything is served on a tray, reminiscent of those days when you chose your lunch in the school cafeteria and grabbed seat.
The Scene
Food. Fun. Lifestyle. Features. All in America's Finest City.
The menu includes salads, soups, hearty braised meats, sandwiches, desserts and, of course, the namesake lemonade drinks, including seasonal selections such as Cucumber Mint Lemonade and Watermelon Rosemary Lemonade.
Menu items include a fresh assortment of "Marketplace Vegetables" that can be mixed and matched to please your particular palate. The company says the current summer menu includes: mission figs; arugula; blue cheese; sherry vinaigrette; pineapple chicken; green beans; coconut; jalapeño; jerk dressing; melon; frisée; and hazelnut.
Both the new Hillcrest and La Jolla locations will also offer made-to-order flatbreads baked in an open-flame brick oven. The flatbread menu boasts these topping options: wild mushrooms; truffle; parmesan; heirloom cherry tomatoes; mozzarella; basil; blue cheese; walnuts; and arugula.
Meanwhile, carnivores might opt for the slow-cooked braises on the Lemonade menu, including Lemongrass Chicken, Red Miso Beef Short Ribs and Pulled Pork Peach BBQ.
Executive Chef and founder Alan Jackson says the company is thrilled to branch out into San Diego, and feels the eatery is a good fit in the new locations.
"Hillcrest is a vibrant community known for its diversity, much like Lemonade—a place where everyone is welcome," Jackson said. "Westfield UTC in La Jolla is a retail-resort experience with a health-conscious clientele."
Lemonade launched in West Hollywood, Calif., in 2008. Since then, 15 locations have opened throughout Southern California, plus two overseas locations in Dubai.