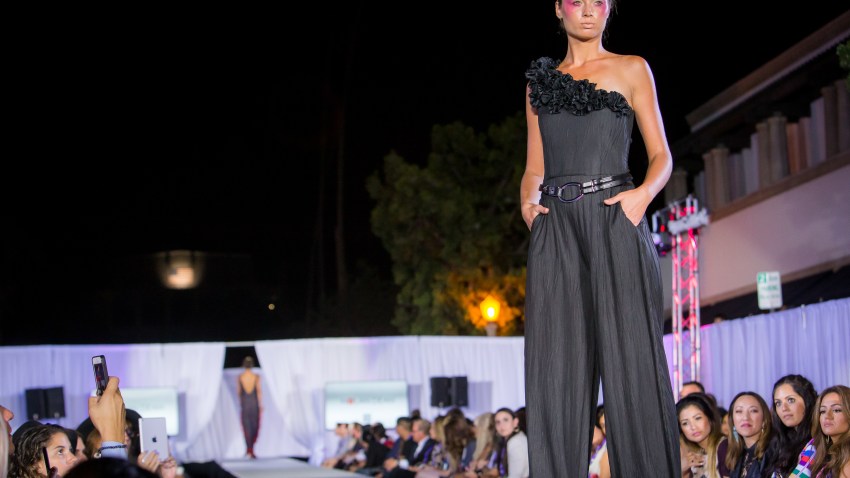 After undergoing a same-day total transformation, the block of Wall Street nestled between Girard and Ivanhoe in La Jolla became San Diego's "place to be" Friday night.

With seagulls soaring high above the white draped skyway, Fashion Week San Diego (FWSD) 2015 surged into the first night of its fashion runway shows. The program's newest home – in the heart of La Jolla – had the whole neighborhood buzzing (and dancing, thanks to killer tunes from DJ Artistic).
Night 1 of the Wall Street shows featured 12 collections that had never before been seen. How exciting is that? Co-MCs Jeff Krapf and NBC 7's Jodi Kodesh welcomed runway guests, followed by a presentation by County Supervisor Ron Roberts.

Did you know he's a trained architect? After joking about being invited as the "token local official," he continued by noting – as a fellow designer – he can especially appreciate the process of taking an idea and translating it into something physical. Supervisor Roberts (whose district includes La Jolla) applauded Allison Andrews and the FWSD organization for cultivating a new level of expertise and breed of entrepreneur within San Diego.

[[330466701,C]]
With 3,000 attendees at last year's Fashion Week, the event is bringing people and business to our local economy. The growing success of FWSD is also a true testament to all Andrews and her team have done to create a more vibrant San Diego. And with that, Roberts declared this week – across San Diego County – "'Fashion Week San Diego' Week."

Andrews then stayed on the runway to share a few opening words with the crowd. After thanking the community of La Jolla and neighboring businesses for so warmly welcoming FWSD – I think it's clear she has a serious talent for creating outstanding partnerships – Andrews reminded us that "this is more than a fashion show – this is business."

By participating in Fashion Week we are helping to launch and define careers, which is really quite an honor when you think about it. And for someone who finds incredible inspiration in entrepreneurial success stories – her sentiments actually made me a bit emotional. My hat goes off to these brave and courageous designers, who take the risk of following their passion and putting it on display for the world to see.

She gave a final thanks to FSWD 2014 Top Designer A'doreus, who designed her wonderfully flowy gown with accents of both pink and blue. Andrews is a beautiful seven-months-pregnant and she and her husband are waiting to learn baby's gender, so the dress offers that most meaningful touch. You can imagine how – as a mom of three, including a precious little guy born earlier this year – all the baby feels started coming up. After an on-the-spot "hold it together, sister" pep talk with myself, I was ready for some runway magic.

The Scene
Food. Fun. Lifestyle. Features. All in America's Finest City.
Alexandra Marie started the show as the opening designer. At just 19 years old – the youngest in FWSD history – I was beyond impressed with her craftsmanship. While I'm keeping her super cute bikinis in mind for "serious- baby-weight-loss Lindsay," I need every kimono she showed now. I thought it might be inappropriate to just help myself as the models passed by, so I'll politely await Sunday's trunk show.

I was so lucky to be seated next to the delightful Black family, whose daughter Mackenzie modeled Alexandra Marie's final look. Not only were they the coolest parents and grandma ever, but they reminded me how Fashion Week really connects so many different people across San Diego. From models to makeup artists to photographers to freelance writers who still can't believe they were selected to cover Fashion Week (that's my hand in the air) – FWSD brings our city together and gives us all a greater sense of community. And that's way stylish.

Next up were Bearly Proper – whose contemporary menswear collection featured the most unexpectedly hip quilted pinafore – and Carou Belle, who treated us all to a charming escape with her "seaside love"-themed gowns. They had bubbles…bubbles!

Voted last year's second-place designer, Rachel of Lady Lane then wowed guests with her signature vintage perspective. Glorious and girly, her looks made me want to run out and buy an English cottage, complete with well-tended rose garden.

And she had kids. The most captivating little guys and gals. You could hear the collective "aww" echo down the runway.

I had the pleasure of seeing Rachel's pieces up-close at the second "Glamour on Goldfinch" brunch event in September, at which she was the spotlighted designer. And when she came out for the final walk in the most gorgeous red lace number, you could see why everything she touches turns to darling. Floral femininity for the win!

Following Lady Lane was Saturne Collection, a perfect example of those success stories I told you I loved so much. Once a homeless veteran now fully pursuing his unique take on trendy men's separates – I think Marcelin Saturne would agree that design has the power to change us. The ability to create is one of the greatest gifts we have, and if it's in your bones – you have to be true to that calling.

Dynamite Doll closed out the first half of collections with Annaiah Jones' just-absolutely-joyful creations. You couldn't help but smile as the models – some gracing the crowd with imaginary dust from their fairy wands – happily worked the runway to an original song written and performed by Jones herself.

Speaking of songs, I really can't say enough about how much the amazing music added to the overall experience. DJ Artistic had selections so perfectly paired with the collection being shown – remixed Whitney Houston for swim and resort, gritty blues for cool menswear, dreamy alternative for the vintage-inspired line --- with a super upbeat vibe before and after. Walking up to the venue, I even caught a few valet parking attendants busting a move.

I couldn't wait for the second half of the show to begin, as I've been blessed to get to know Fatsani and Tariro of Tasanni (combination of their first two names) over these past several weeks leading up to the runway event. You could say their collaboration was decades-in-the-making, as they actually met in fourth grade as schoolmates in Zimbabwe.

Through a crazy number of coincidences (or were they?), their paths continued to cross – with both ladies ending up in the States and wanting to go into business together to give back to their native Malawian and Zimbabwean communities. That desire is now reflected in classic shapes that have been reinterpreted with African-inspired prints – visions concepted in America, but produced in the Tasanni homeland – resulting in a collection that's uplifting and fresh.

Quynn Atelier then brought us her pastel sweetness, and Graciela Llorente a sophisticated-yet-wearable line of cobalt blues and sunny yellows. Can I start planning springtime tea dates now?

Last year's winner and crowd favorite A'doreus then presented her chic palette of dark florals and a petal-hued abstract print, in a masterful blend of refined and bohemian. I couldn't get enough of the perforated fabric seen throughout her dresses (honestly – I'm still thinking about it as I write this). Yes, yes, yes.

Alber Rezko took us to the provocative with his presentation of fine jewelry, but what stood out most to me was his final sequined gown bearing his first name on front, last name on back. Genius, with a delightful nod to Jean-Paul Gaultier.

Nolan Dean brought the first night of Wall Street shows to a stunning end, with red carpet-worthy looks that – upon first glance – elicited an immediate gasp from guests.
Seriously, I would love to see every single one of his designs in next season's award show circuit, and already have handpicked pieces for Anne (Hathaway), Kate (Winslet) and Cate (Blanchett). The Spanish violin-led soundtrack only enhanced the runway drama we all were more than enjoying. And the extraordinary movement seen in his construction was, well, quite moving.

If this is how the runway shows are starting, I can't even begin to imagine the talent we'll see Saturday evening. Thanks again for joining me on this most exciting and fashionable journey. Hope you're loving it as much as I am!