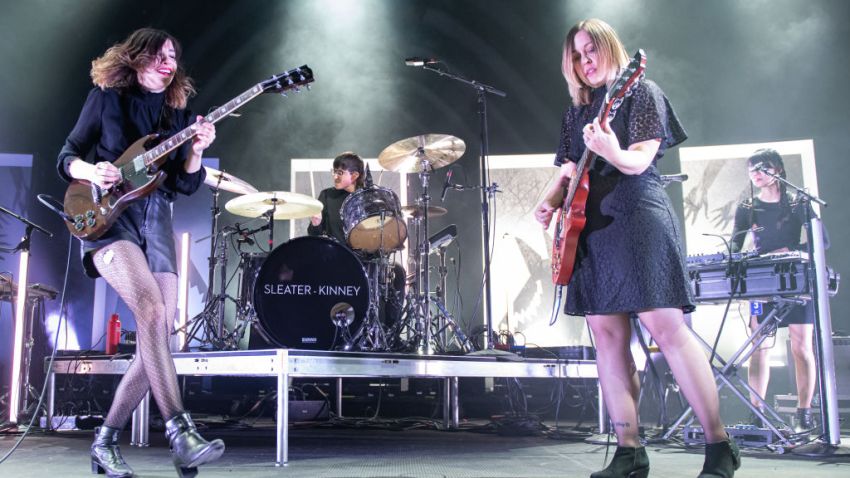 Spring forward, fall back! The nights will begin earlier now, so for those that love the nightlife, when the sun goes down, you can now get an earlier start. Here are some incredible picks, curated by yours truly and locally sourced. Also congratulations are in order to Soda Bar on 10 years of rocking San Diego, celebrate with 'em on Nov. 1 (Cults, Weatherbox and Postioner) and 2 (Cults, Jacob Turnbloom and Beating, fka Beaters) for this momentous occasion [and read the SoundDiego interview with Soda Bar co-owner/booker Cory Stier here]. Finally, remember to listen to locally sourced music via Loudspeaker on 91x Sunday nights at 7 p.m. -- now on with the show!
Nov. 1: Dinosaur Jr. at the Observatory North Park. Legendary indie-rock band that formed in 1984 and were once just known as Dinosaur.
Nov. 2: Dia de los Deftones at Petco Park. Quite the eclectic lineup: Deftones, Chvrches, Gojira, Megan Thee Stallion, JPEGMAFIA, Hum, Youth Code and Brutus. [Read the SoundDiego interview with Deftones frontman Chino Moreno here]
The Scene
Food. Fun. Lifestyle. Features. All in America's Finest City.
Nov. 3: Guerilla Toss at the Casbah. Boston-based psychedelic/art-rock band.
Nov. 4: Hammered Satin and the Babydoll Warriors at the Casbah. Hammered Satin features Noah Wallace, who used to be in a legendary local band called Teacher's Pet.
Nov. 5: Matt and Kim at the Observatory North Park. One of the best live shows you will ever see, sooo much fun.
Nov. 6: Christian Death at Soda Bar. Death rock, goth and art punk from this band, which formed in 1979 in Orange County; get into it!
Nov. 7: An evening with Sloan at the Casbah. Canadian power-pop band that has hooks for days.
Nov. 8: Two Door Cinema Club at the Observatory North Park. Northern Ireland-based band with an epic sound.
Nov. 9: Kate Bush Night with Baby Bushka at the Casbah. Must like Kate Bush.
Nov. 10: Nebula Drag, Modern Love and Garth Algar at the Casbah. Full disclosure: I booked this show and will be in attendance after Loudspeaker on 91x.
Nov. 11: Broncho at the Casbah. Oklahoma-based band with a diverse sound rooted in indie-rock (but don't label them).
Nov. 12: Sleater Kinney at the Observatory North Park. Riot Grrrl's rock!
Nov. 13: Cave In and Helms Alee at the Soda Bar. Heavy music with indie flair.
Nov. 14: Strung Out and the Casualties at SOMA. Punk for punks.
Nov. 15: Cold War Kids at the Observatory North Park. Indie-rock favorites.
Nov. 16: The Aquabats at House of Blues. Superheroes of ska-punk!
Nov. 17: The Black Keys, Modest Mouse and Shannon & the Clams at Pechanga Arena. Is this the alternative show of the year?
Nov. 18: Pip Blom at Soda Bar. Up-and-coming artist from Amsterdam, the Netherlands.
Nov. 19: Puma Blue at the Casbah. London artist who's music has been described as "voicemail ballads."
Nov. 20: Ghostland Observatory at the Belly Up. Electronic-rock duo with an amazing light show.
Nov. 21: Big Freedia at the Belly Up. The Queen Diva of bounce music, a genre of hip-hop originating in New Orleans.
Nov. 22: Wonderfront Festival begins. Too many bands to list, but this is its first time on the scene and it's all going on down along the water of our beautiful city. [Read the SoundDiego preview on the festival here for more info]
Nov. 23: The Get Up Kids at Soda Bar or Pinback at the Belly Up. Choices aren't always bad, you just have to make them.
Nov. 24: Crocodiles, Kate Clover and Daggers 86 at the Casbah. I love Crocodiles and I am so happy they are back. The band features Brandon and Chuck, formerly of the Plot to Blow Up the Eiffel Tower.
Nov. 25: Emily Afton, Dani Bell & the Tarantist, and the Ha at the Belly Up. Emily has elements of Fiona Apple...
Nov. 26: Eddie Spaghetti at the Casbah. A Supersucker gone solo.
Nov. 27: Nile at Brick by Brick. If you like death metal with heavy Egyptian influences, then this is the band for you.
Nov. 28: Happy Thanksgiving!
Nov. 29: The Rosalyns at the Casbah. Girls in the garage! Ladies from the Loons, Schizophonics, Gloomsday and Birdy Bardot that will rock the boys under the table.
Nov. 30: Club Sabbat at the Casbah. It's goth night at the Casbah with your host Robin Roth -- wear black.
If you want to shake hands in person, join me any and every Tuesday at the Merrow for local and national talent rocking the stage. With so many choices, I'm just here to be your spirit guide to good music...I'll see *you* at a show!

Tim Pyles, a longtime local who grew up in La Jolla, is the unofficial mayor of local music and hosts Loudspeaker via 91x every Sunday from 7-10 p.m. He also books local acts at the Casbah, Public Square Coffee and the Merrow. You can follow him on Twitter or reach him directly at pyleste@yahoo.com