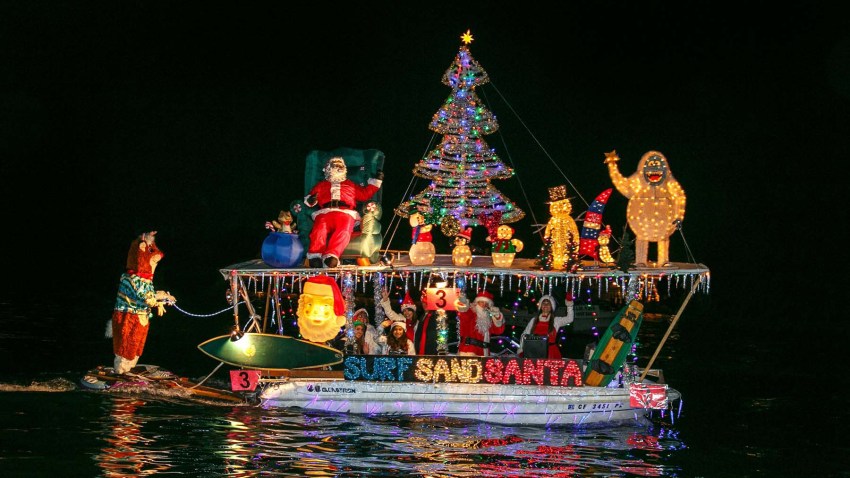 sup{font-size:14px;vertical-align:super;}
This article is sponsored by Visit Newport Beach and the 107th Newport Beach Christmas Boat Parade. It does not reflect the work or opinions of NBC San Diego's editorial staff. To learn more about Newport Beach and the Newport Beach Christmas Boat Parade, go to Christmasboatparade.com
Don't tell Santa, but the heart of the Holidays is located much further south than the North Pole.
From boutique shopping and luxurious resorts to acclaimed golf courses and a classic waterfront, Newport Beach has long been a summertime favorite, but the Christmas secret is out!
Thanks to the annual Newport Beach Christmas Boat Parade, the popular SoCal destination is equally charming during the Holidays.
Now celebrating its 107th year, this free, family-friendly event begins Wednesday, December 16 at 6:15 p.m. with a dazzling fireworks display off the Newport Pier, then sets the harbor ablaze for five consecutive nights before concluding on Sunday, December 20 at 9 p.m. with a fireworks finale from the Balboa Pier.
Known as Newport Beach's Christmas card to the world, visitors are invited to watch each evening as over 100 boats both big and small partake in this floating, 14-mile festival, from canoes and kayaks to multi-million dollar yachts boasting over $50,000 in lights and decorations.
To add to the entertainment, a different notable Grand Marshal will be presiding over the parade during the first four nights. Festivities kick off on Wednesday, December 16 with Arte Moreno, owner of the Los Angeles Angels of Anaheim. Thursday sees members of the championship U.S. Women's National Soccer Team taking over marshaling duties (as well as signing pre parade autographs at ExplorOcean), Friday brings former contestants of "The Voice", while Saturday is hosted by the Tournament of Roses Queen and Court. Click here for more details and a full line up of Grand Marshals.

So where's the best seat in the house to take in all the spirit-warming action? Viewing options abound, but we recommend reserving a dinner table at one of the many fabulous waterfront restaurants lining the parade route, or by strolling down the iconic boardwalk alongside the stunning Christmas-themed flotilla.
Of course the lights aren't limited to the seafaring vessels alone. Decked out homes, businesses and yacht clubs — better known as The Ring of Lights — get in on the spirit as well by going all out with animated rooftop decorations that rival those of the parade.
Feel like getting even closer? No problem. Embed yourself in all the Holiday fun on a holiday cruise of the harbor during the parade!
With so much feel-good spirit and spectacle, it's no wonder the New York Times has hailed the Newport Beach Christmas Boat Parade as "one of the top ten holiday happenings in the nation."
So this year, save the sled and the cold for Santa and join over one million Holiday revelers in Newport Beach, where you can celebrate the Christmas season in warmth, style and comfort alongside family and friends.
To learn more about the 107th Annual Newport Beach Christmas Boat Parade, please visit www.christmasboatparade.com. And for information on hotel packages and restaurant specials, go to www.visitnewportbeach.com.