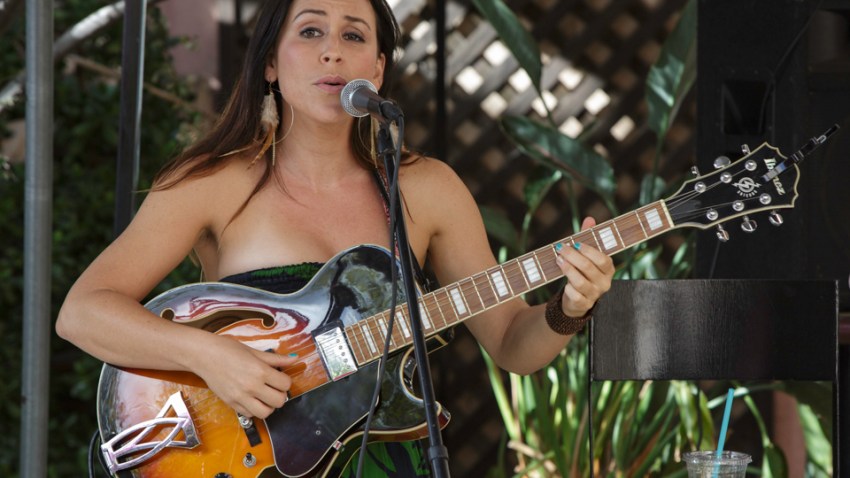 Not to be confused with September's Adams Avenue Street Fair or April's Adams Avenue Unplugged, the 16th annual Art Around Adams returns to the bustling San Diego neighborhood Saturday, June 1, from noon to 8 p.m.
Spanning a two-mile stretch across Normal Heights and Kensington, the free, family-friendly festival features a multitude of art galleries and exhibits, street vendors, food, crafts, kids zone, and more than a dozen stages packed with over 70 musical acts.
The San Diego music scene will be on fine display throughout the day as a plethora of genres will be represented by local up-and-coming acts -- ranging from pop-punk (Plane Without a Pilot), hard rock (Electric Mud), Americana (Country Rockin' Rebels) and the blues (Chloe Lou & the Liddells) to vintage rock & roll (Manual Scan), pop (Los Hollywood), hip-hop (Parker Meridien), folk (Enter the Blue Sky), psych-rock (Aviator Stash) and even outrageously fun cover bands (Spice Pistols). Of course, there are dozens of more performers on deck, so view the festival's schedule below.
The Scene
Food. Fun. Lifestyle. Features. All in America's Finest City.
In addition to music, there will be a "Comedy Trolley" taking attendees up and down the avenue featuring more than 20 comedians. For more information about the festival, visit artaroundadams.org.
2019 Art Around Adams music lineup
SDML Stage @ Cafe 21, 2736 Adam Ave.
Noon: Cherry Road
1 p.m.: Flower Animals
2 p.m.: Future Human
3 p.m.: Retra
4 p.m.: Polux
5 p.m.: Sweet Myths
6 p.m.: Plane Without A Pilot
7 p.m.: Mainsail
Adams Avenue Integrative Health Stage, 3239 Adams Ave.
1-2 p.m.: Becca Jay Trio
2:30-4 p.m.: AJ Froman
4:30-6 p.m.: Finnegan Blue
Lestat's West Stage, 3343 Adams Ave.
1 p.m.: Dan Gindling
2 p.m.: Marian Mulock
3 p.m.: Beezie
4 p.m.: Julian Jaime
5 p.m.: Aaron Bowman
6 p.m.: Home
7 p.m.: Satanic Puppeteer Orchestra
The Ould Sod (21-plus only), 3373 Adams Ave.
1 p.m.: Clay Fox (Daniel Schraer Solo Project)
2 p.m.: Courtney Preis
3:30 p.m.: Anais Lund & Deejay Rich
4:15 p.m.: Better Half
5 p.m.: Bri Schillings
6 p.m.: Steven Wilson
7 p.m.: The Spiritual Motels
The Rabbit Hole Stage, 3377 Adams Ave.
Rosie O'Grady's Stage (21-plus only), 3402 Adams Ave.
Noon: Roger!
1 p.m.: The Naked I
2 p.m.: Fusebox
2:45 p.m.: The Dig Its
4 p.m.: Bathwater Babies
5 p.m.: Shark Jones
6 p.m.: Donna Larsen & the Messengers
7 p.m.: A Fine Madness
Blindspot Records Stage @ Smitty's Service (3441 Adams Ave.)
Noon: Kitty Plague
1 p.m.: Sometimes Julie
2 p.m.: Cambrian Shores
3 p.m.: Evan Diamond
4 p.m.: The Cherry Bluestorms
5 p.m.: Electric Mud
6 p.m.: Manual Scan
7 p.m.: The Sleepwalkers
91x Loudspeaker Main Stage hosted by Tim Pyles @ Adams Avenue Rec Center Field (3491 Adams Ave.)
Noon: Blacks Beach Boys
1 p.m.: The Heart Beat Trail
2 p.m.: Daytrip
3 p.m.: Los Hollywood
4 p.m.: The Hiroshima Mockingbirds
5 p.m.: Avenue Army
5:55 p.m.: Aviator Stash
6:45 p.m.: Parker Meridien
Normal Heights United Community Church (4650 Mansfield St.)
3 p.m.: Lori Aguilar Wilson
4 p.m.: Normandie Wilson
5 p.m.: Alicia Previn
6 p.m.: Tinkersmith
7 p.m.: Timothy Joseph
DiMille's Beer Garden Stage (3492 Adams Ave.)
Noon: Jeff Ousley & the Party Crashers
1 p.m.: Edwin Masters & Friends
2 p.m.: Static Halo
3 p.m.: Alvino & the Dwells
4 p.m.: Steve Rosenbaum
5 p.m.: The Armoires
6 p.m.: Country Rockin' Rebels
7 p.m.: Super Buffet
Kensington Club (4079 Adams Ave.)
1-4 p.m.: Shepard Canyon, Marujah, Wicked Echoes, Machine Politik
5 p.m.: Black Hesher
6 p.m.: Ted Washington
7 p.m.: Spice Pistols
Kensington Library Park Americana Stage (4121 Adams Ave.)
Noon: Happy Ron Hill
1 p.m.: Josie Day
2 p.m.: Enter the Blue Sky
3 p.m.: Corina Rose Collective
4 p.m.: S. Mathias
5 p.m.: Chloe Lou & the Liddells
6 p.m.: The Becca Jay Band