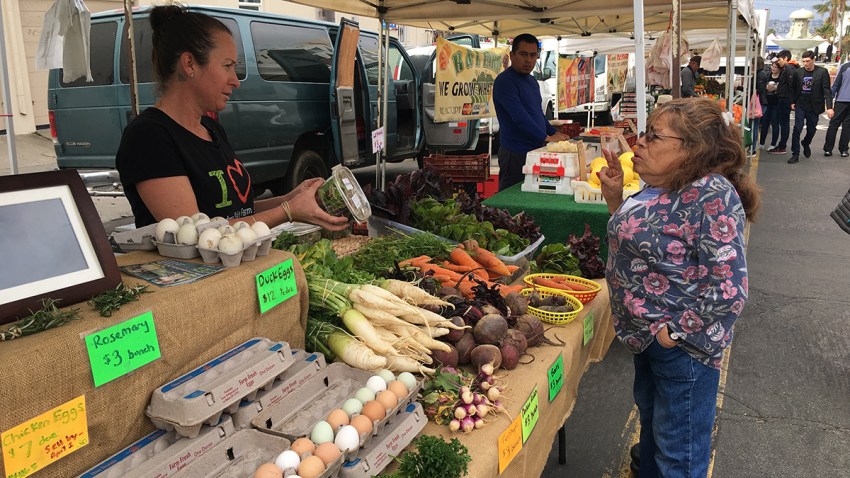 The life of a farmer's market vendor may not be what you think.
"A day in the life of a farmers market vendor is tough physically and mentally," Shawn Blaze, the owner of Avocado Toast Brothers said. "But at the end of everything it's a lot of fun because you're talking to people face to face, you're meeting new people, you're smiling and everyone else is smiling and it's just a great environment to be outside and communicating with people."
For Blaze, his day starts very early. He gets up before sunrise to prepare his popular avocado dishes. He creates his dishes using thick toast, avocado spread and then adds his flare on top. A popular one is the breakfast toast with an egg on top. He also includes microgreens and goat cheese in his other dishes.
The Scene
Food. Fun. Lifestyle. Features. All in America's Finest City.
"I wake up at about 4:30 (a.m.) for the market and end up getting to the warehouse an hour later," Blaze said. "Most of the prep is done at the market for myself, however, for a lot of vendors, they wake up even earlier to cook a lot more food."
Blaze is just one of the roughly 45 vendors who participate in the Little Italy Farmers Market every Wednesday from 9 a.m. to 1 p.m. and Saturday from 8 a.m. to 2 p.m.
The Wednesday market is much smaller, spanning two blocks and more targeted to the locals who want to shop for locally-grown produce than the Saturday market.
Aside from the early hours, a lot of the cooking done at a vendor's stall may have been prepped in a prep kitchen hours before.
"I try to make it as simple as possible," Blaze said. "I'm basically building a restaurant for people and then breaking it down."
Elizabeth Cramer is the owner and chef of FaVe Tacos. She specializes in fast veggie tacos because she wants to make fast healthy food more accessible. She works the farmers market every day, except Mondays.
"It's really difficult because the amount of prep that goes into healthy food is so much more than unhealthy food," said Cramer. "It's much much harder putting in the time and energy into prepping six different veggies or vinaigrettes to put it into something much much healthier."
For other vendors, it's not just about waking up early and the prep, it's about farming.
Grandma Sally's Farm is all organic but is different from certified organic produce in groceries.
"A lot of people are uninformed that even if you are certified organic all that means is that you are certified to use organic pesticides," said Malania Buford, the co-owner and operator of Grandma Sally's Farm. "It's not good for your body, so we just don't use any of it."
Buford only has one other person working with her, her husband. They do all of the farming, maintenance, planting and chores on their own.
Originally, Buford was a waitress and her husband was a nurse, but this is the first year they dedicate their time completely to farming. The reason they switched careers is because of Buford's mother.
"My mom got cancer, Stage 4 lymphoma non-hodgkin, and the doctors had given her a year to live," Buford said. "So, she went the holistic approach and did it all through diet."
Now, 10 years later, Buford's mother is in remission and she did it all through diet which really inspired the Bufords to learn about farming and create their business.
For Buford, being a vendor is hard work but also enjoyable.
"I'll come here, unload, set up everything up and then just enjoy the day," said Buford. "All the different people, it's really awesome and really supportive and I try to give people as much education as I can."
This report was a collaboration between NBC 7 and the SDSU School of Journalism and Media Studies.