Yelp's Top 100 List for 2015 is here, revealing the hottest 100 places to grab a bite throughout the far reaches of the San Diego region.
Yelp's data team took a look at the thousands of rich, local reviews on Yelp in San Diego County neighborhoods from the South Border to Temecula and ranked businesses that fall under the "Restaurant" category based on number of reviews and overall business star ratings.
Clearly beloved by San Diego residents, the majority of the findings were for neighborhood, one-off, family-owned small businesses. From downtown to the 'burbs, there's something for everyone everywhere on this list! How many of these hidden gems have you tried?
Yelp Top 100 Places to Eat in San Diego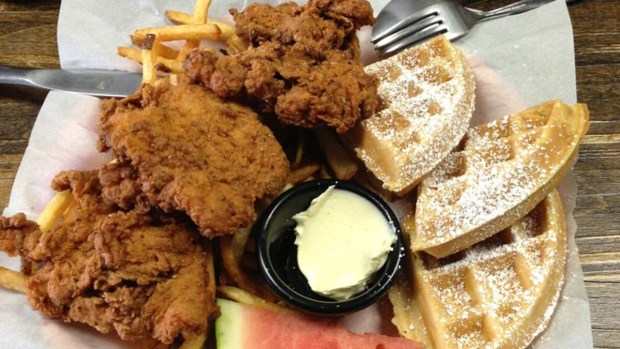 1: Grapes & Hops Deli, East Village
2: Northside Shack, Point Loma
3: Napolimania Pizzeria, Chula Vista
4: Oscar's Mexican Seafood, N. Pacific Beach
5: Lezzet Café, Downtown SD
6: Mariscos Isaac, Food Truck
7: Hungry Bear Deli, Vista
8: The Taco Stand, La Jolla
9: Las Brisas Mexican Cuisine, San Marcos
10: That Boy Good, Oceanside
11: The Hills, La Mesa
12: Cucina Basilico, Serra Mesa
13: Crisp Fish N Chips, Imperial Beach
14: Luce Bar & Kitchen, Bay Park
15: Grill House Café, Miramar
16: Werewolf, Gaslamp
17: Supernatural Sea to Sandwich, Miramar
18: Trilogy Sanctuary, La Jolla
19: Chef Miguel's Deli, Broadway
20: Verona Bistro, El Cajon
21: Sushi Uno, Golden Hill
22: Deli Sushi & Desserts, Miramar
23: Circa Restaurant, University Heights
24: Red Oven Artisanal Pizza, Food Truck
25: Gauchito Grill, San Marcos
26: Meze, 6th Ave
27: Saigon Sandwiches & Deli, City Heights
28: Phil's BBQ, multiple locations
29: True Fruit, Spring Valley
30: Big Jim's 395 Grill, Vista
31: Mariscos mi Gusto es, Food Truck
32: Cafe Med, Alvarado Rd.
33: The Promiscuous Fork, La Jolla
34: Guahan Grill, Oceanside
35: Punjabi Tandoor, Miramar
36: SandBox Pizza, Pacific Beach
37: Pattaya Thai Restaurant, Carmel Mountain
38: Table No. 10, East Village
39: Dang Brother Pizza, Food Truck
40: Felix's BBQ With Soul, Oceanside
41: Time Out Café, Vista
42: The Flight Path, Little Italy
43: Thai Time, El Cajon
44: Pizza Studio, Gaslamp
45: La Mesa Bistro & Bakery, La Mesa
46: Picasso Naturals, Kearny Mesa
47: Aladdin Mediterranean Restaurant, Clairemont Mesa
48: Karl Strauss Brewery Gardens, Sorrento Valley
49: The New Yorker, Gaslamp
50: Fresco Urban Café, Torrey Highlands
51: Swami's Café, multiple locations/Oceanside
52: Waraii Sushi, Oceanside
53: Rosina's Italian Restaurant, Oceanside
54: Jake's Del Mar, Del Mar
55: Quei Bravi Ragazzi, Encinitas
56: Tahini, Pacific Beach
57: Ironside Fish & Oyster, Little Italy
58: Rustic, East Village
59: Mamma Teresa, Poway
60: George's at the Cove, La Jolla
61: Mary's English Kitchen, La Jolla
62: BKK Thai Kitchen, Carlsbad
63: Anthem Vegan, Food Stand
64: Carmen's Authentic Mexican Food, Clairemont
65: Mr Pho, Oceanside
66: Red Moon Noodle House, Kearny Mesa
67: ParAmour, Imperial Beach
68: Mark's Bark, Normal Heights
69: Honey's Bistro & Bakery, Encinitas
70: Alex's Brown Bag, Pacific Beach
71: Nosh Delicatessen, Little Italy
72: Sushi Fish Attack, Clairemont
73: Vessel Restaurant + Bar, Shelter Island
74: Cafe 21, Gaslamp
75: Cafe Milano, La Jolla
76: The Land & Water Co., Carlsbad
77: The Haven Pizzeria, Kensington
78: Stone Brewing Tap Room, East Village
79: Poway Sushi Lounge, Poway
80: Primo Food Mart, Vista
81: Berkeley Pizza, Downtown/Gaslamp
82: French Corner, Encinitas
83: Burritos Santana, Rancho Mission Rd.
84: Fig Tree Café, Pacific Beach
85: Lemon Grove Café, Lemon Grove
86: KNB Wine Cellars, Mission Gorge
87: Izakaya Pacific Beach, Pacific Beach
88: Cape Town, Miramar
89: Pho Hut & Grill, Clairemont
90: La Tiendita De Linda Vista, Linda Vista
91: Black&Blue, Valley Center
92: The 3rd Corner, Encinitas
93: Cali Tacos, National City
94: Encinitas Fish Shop, Encinitas
95: Surf Brothers Teriyaki, Carlsbad
96: Delhi Kitchen, Carmel Mountain
97: Royal India Del Mar, Del Mar
98: Grab & Go Subs, El Cajon
99: 98 Bottles, Little Italy
100: Los Locos Bar & Grill, Old Town