Carlsbad residents and visitors have something new to look at next time they're driving around: a shiny, steel sculpture at a new roundabout that now defines the entrance into the coastal community.
On Thursday, a giant crane installed the public art as the final touch on the North County's first coastal roundabout at Carlsbad Boulevard and State Street, at the south end of Buena Vista Lagoon.
The sculpture, dubbed "Coastal Helix," was created by award-winning Bay Area artist Roger White Stoller. His masterpieces have appeared at public buildings and corporate locations, including Google Headquarters in Mountain View, California.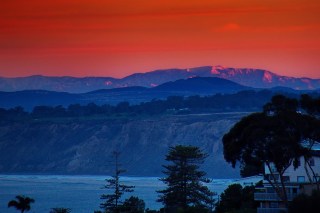 Why We Love San Diego Gallery II
According to city officials, the top of the "Coastal Helix" sculpture is mounted about 17 feet from the road's surface. The piece weaves abstract images drawn from Carlsbad's culture and environment into a metal lacework.
Both the public art and roundabout are designed to create an improved and welcoming entrance to Carlsbad's northern border. New bike lanes and widened sidewalks also add to the upgraded area.
The project was partially funded by SANDAG and the Carlsbad City Council. Stoller's sculpture design was approved by the Carlsbad City Council back in March as the artwork that would ultimately greet visitors and residents entering the city.