Paul McCartney, Lady Gaga, Katy Perry, Barbra Streisand and Billy Joel are among a long list of celebrities who have signed an open letter from Billboard magazine to Congress about stopping gun violence in America.
Billboard posted the letter along with over 200 signatures from musicians and executives, including Cher, Jennifer Lopez, Elvis Costello, Britney Spears, Lin-Manuel Miranda and Sting, on its website Thursday.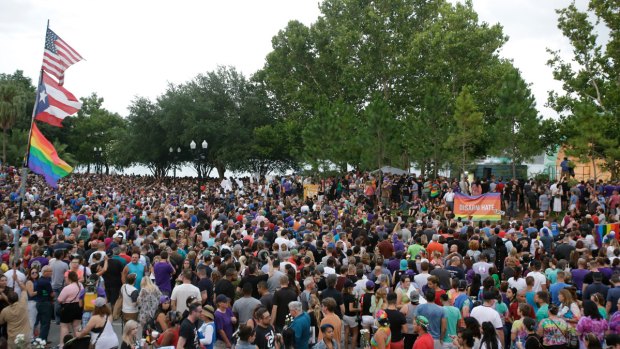 Tributes to Orlando Shooting Victims Pour in From Around the World
"We call on Congress to do more to prevent the gun violence that kills more than 90 Americans every day and injures hundreds more," Billboard wrote.
The magazine said its editors were horrified by the recent shooting in Orlando, Florida, and Christina Grimmie's death, and felt connected to both incidents because the "tragedies occurred where musicians and music fans gathered."
Billboard "and the undersigned" — which also included Alicia Keys, James Corden, Questlove, Selena Gomez, Stevie Nicks and Bob Weir — implored that Congress "close the deadly loopholes that put the lives of so many music fans, and all of us, at risk."
Billboard's letter comes amid a growing number of celebrities voicing support for House Democrats who stage a 25-hour sit-in over gun-control legislation.
Comedian Amy Schumer, who launched a "crusade on guns" last year with New York Sen. Charles Schumer, implored her 4.13 million followers to "demand action" for gun control by texting a hotline, while actress Debra Messing similarly suggested, "I just called my Rep to support sit in for gun control vote. Please call yours and let them know you support them!"
Kim Kardashian noted, "After Orlando, Congress hasn't done anything and now they're going on vacation. I say #NoBillNoBreak."
NOW: Dozens of House champs stage historic sit-in on House floor to demand a vote on gun safety. text DEMAND ACTION to 644-33 to support

— Amy Schumer (@amyschumer) June 22, 2016
I just called @RepPaulRyanVP to demand closing the loop holes. Voicemail FULL. Good sign. Will try again later pic.twitter.com/UTe2OP9a65

— Debra Messing (@DebraMessing) June 23, 2016
After Orlando, Congress hasn't done anything and now they're going on vacation. I say #NoBillNoBreakpic.twitter.com/WNdeZIUaqr

— Kim Kardashian West (@KimKardashian) June 22, 2016
Raise your voice America! #GunControl is needed to end violence. We need stricter laws to keep guns out of hands of the wrong people!

— Lady Gaga (@ladygaga) June 23, 2016
Get involved. Retweet this video. #DisarmHate. https://t.co/cSjL4K6WY0https://t.co/ZrNUob9Sv5

— billboard (@billboard) June 23, 2016
Proud to have affixed my signature to this as well. #RiseUphttps://t.co/47cfbwbxoB

— Lin-Manuel Miranda (@Lin_Manuel) June 23, 2016
History has its eyes on the House tonight. #holdthefloor#HamiltonMusical#LinManuelMiranda

— Bradley Whitford (@WhitfordBradley) June 23, 2016
Watching #NoBillNoBreak unfold is a brilliant thing to see.They are chanting for the people who no longer have a voice. Its incredible.

— James Corden (@JKCorden) June 23, 2016
Thank you @repjohnlewis. For so many years of unflinching courage. And human common sense. #NoBillNoBreakhttps://t.co/Li2Ysgar6m

— Connie Britton (@conniebritton) June 23, 2016
I love @repjohnlewis so much. Always fighting for freedom and good. https://t.co/z8G880QVR2

— shonda rhimes (@shondarhimes) June 22, 2016
.@HouseDemocrats Do you need sleepover supplies? Phone chargers? Ouija board? A DVD of Dirty Dancing? #NoBillNoBreak#Enough

— Full Frontal (@FullFrontalSamB) June 23, 2016
The Associated Press contributed to this story.