Turns out the British haven't cornered the market on educating the wizarding youths of the world.
J.K. Rowling let slip on Twitter that Eddie Redmayne's Newt Scamander, the protagonist of the upcoming Harry Potter spin-off film "Fantastic Beasts and Where to Find Them," is going to meet up with fellow non-Muggles who learned their mystical trades at a school that isn't Hogwarts.
"What's the name of the school that young witches and wizards in the U.S. would attend?" a fan asked Rowling, who's making her screenwriting debut with "Fantastic Beasts," during a Twitter Q&A.
Another fan chimed in that Rowling had mentioned the Salem Witches' Institute, but the author pointed out that that was a play on the Women's Institute in the U.K.
Asked again about the name of the school, Rowling tweeted, "That information will be revealed in due course." And when yet another anxious fan hoped for Newt to make an appearance at a school of magic in New York, Rowling finally replied, "No, but he's going to meet people who were educated at [name] in [not New York]."
.@tannerfbowen No, but he's going to meet people who were educated at [name] in [not New York].

— J.K. Rowling (@jk_rowling) June 6, 2015
"Will the [name of the?] Wizarding school in America have any relevance to the Native American-Indian culture?" inquired @loonyloolaluna. (Quite the scholarly minded, well-thought-out question!)
"If I answer that fully it will reveal the location of the school, but you can take that as a yes!" Rowling replied. She then added, ""Oh wait - did you mean the NAME is of American Indian origin? It isn't. The name is of immigrant origin."
Regardless, it sounds as though "Fantastic Beasts," due in theaters next year, is going to open the door to yet another whole new world.
Redmayne said last week that he is "hugely excited" to play Newt in at least the first film of the planned trilogy, tellng London's Evening Standard, "I've always loved that world and I feel thrilled to be invited into it."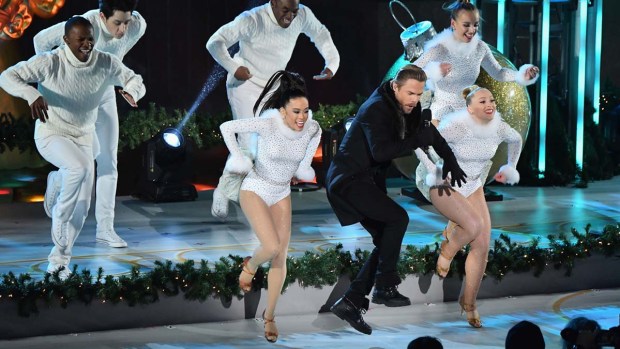 Top Celeb Photos: Stars Shine at Rockefeller Tree Lighting
PHOTOS: Kind of like American Hogwarts--the Wizarding World of Harry Potter in Orlando