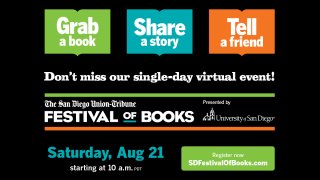 Tickets are on sale now!
The San Diego Union-Tribune Festival of Books returns for its fifth year! The single-day virtual festival brings together book lovers of all ages, independent book sellers, authors, poets, illustrators and local businesses to celebrate the written word.
Enjoy live panel sessions, more than 75 award-winning authors, interactive workshops and activities, children's storytime, Spanish-language programming, music, entertainment and more!
Some of the headlining authors at the Festival of Books are John Grisham, Ilia Calderon, Marie Lu, Ziggy Marley, Michael Connelly, Brit Bennett and Viet Thanh Nguyen.
With special performance by Grammy Award-winning singer and author of the children's book "Footlose", Kenny Loggins.
Some of the Spanish-Language authors and poets at the Festival of Books are Silvia López, Paola Escobar, Maria García Esperón, Ilia Calderón, Juan Felipe Herrera, Margarita Engle, María Hinojosa and Isabel Martín.
For a full list of authors, poets and entertainers, visit sdfestivalofbooks.com.
Admission to the virtual festival is free! Register at sdfestivalofbooks.com.
Tickets are on sale now!