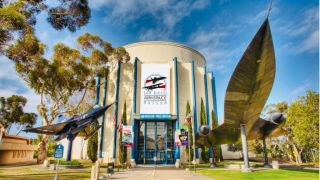 The return of Museum Month in San Diego is this February, a program that not only promotes our city as a vibrant cultural destination but gives us the opportunity to enjoy more than 60 museums and other popular destinations throughout the county with half-price tickets.
HOW TO PARTICIPATE?
Get your free Museum Month passes at local libraries.
During San Diego Museum Month, residents and visitors enjoy special half-price admission to a wide range of museums, historic sites, gardens, aquariums and other cultural destinations throughout San Diego County. There is something for every age and interest, including visual art and design, children and families, science and nature, history, wildlife, military, transportation, music and cultural heritage.
Each Museum Month pass can be used to get up to four half-price tickets at any of the participating museums. (Additional fees may apply for exhibitions and special events at some museums.) Visitors can use their Museum Month Pass to visit as many museums as they wish from February 1-28, 2023.
Museum Month 2023 is supported by First 5 San Diego, following a successful collaboration on Kids Free San Diego, which provided access to 85,000 local children and families last October. The California Arts Council, the San Diego Arts and Culture Commission, San Diego County and The Pecus Group provide additional funding.
Museum Month passes will be available beginning Jan. 26 at more than 75 public libraries located throughout San Diego County, including branches run by the following organizations:
NBC 7 Community
NBC 7 in our community
San Diego County Library
San Diego Public Library
Carlsbad Public Library
Chula Vista Public Library
Coronado Public Library
Escondido Public Library
National City Public Library
Oceanside Public Library
More information about San Diego Museum Month, including a full list of participating museums, upcoming exhibits, and special events, can be found at https://sandiegomuseumcouncil.org/specials/museum-month/.
San Diego Museum Month was created in 1989 to promote the region's diverse range of high-quality cultural offerings. The program has grown to become an annual tradition unparalleled in the United States. An estimated 100,000 people participated in Museum Month in February 2022.