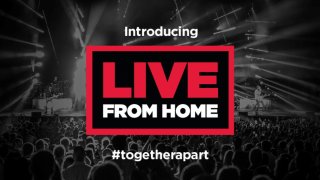 Live Nation has established a new charitable fund to help support concert crews around the world. Live Nation announces Crew Nation, a global relief fund for the crew members / behind the scenes staff who make concerts possible.
Crew members are the backbone of the live music industry. Live shows would not be possible without these incredible people behind the scenes of each and every concert. Live Nation is extending a helping hand to those workers who need it the most by creating the Crew Nation Fund. People can buy merch, donate directly, or simply help get the message out by sharing this information. www.livenation.com/CrewNation and Live Nation will match all donations dollar for dollar, up to $10 million.
Just because we are keeping our distance, doesn't mean the music has to stop. Introducing "Live From Home." Live Nation's all new virtual hub, updated daily with live streams, exclusive artist content, new music and more, keeping you connected to your favorite artists. For more information head to www.livenation.com/livefromhome.