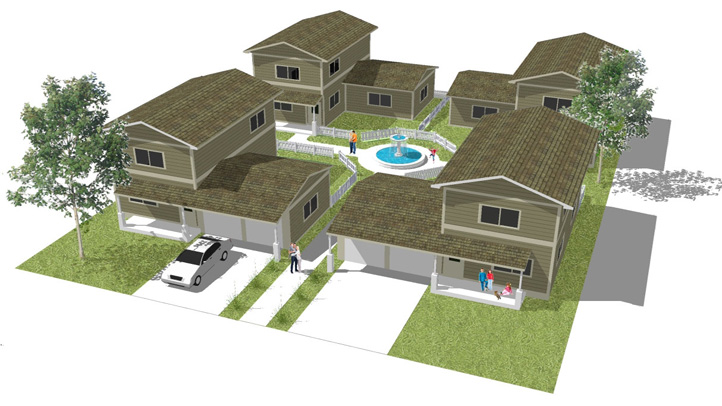 San Diego Habitat for Humanity brings attention to a great cause right in the heart of downtown at 225 Broadway in Horton Square. From September 30 to October 5, Habitat for Humanity, in partnership with NBC 7 San Diego and The Irvine Company, will be constructing the framework of its newest home as part of their "Habitat Off Broadway" project. The home will be transported from Horton Square to a community located at 1174 and 1180 Florida Street in Imperial Beach. This community will consist of 4 single-family homes that will provide affordable and improved living conditions to families in need.
In the U.S. alone, 95 million people suffer from housing problems such as overcrowding, poor quality shelter, high payment costs and homelessness. San Diego Habitat for Humanity, a local affiliate of Habitat for Humanity, is making a difference in the community by improving and establishing new homes throughout the county of San Diego. These new and improved homes make homeownership a reality for struggling families when the thought of owning a home may have seemed impossible. SDHFH has built a total of 130 homes thus far and plans to double that number in the near future.
Habitat Off Broadway is being made possible purely through monetary donations as well as materials and labor. Volunteers and corporate sponsors include Chase, CareFusion, Barney and Barney, Beere and Purves, Inc. and Nypro.
NBC 7 Community
NBC 7 in our community
For more information on the "Habitat Off Broadway" project please visit the San Diego Habitat for Humanity's website.