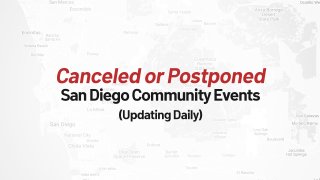 SAN DIEGO / Southern California Events Impacted:
March 12 - 22 San Diego Latino Film Festival | POSTPONED
March 14 ShamROCK: St Paddy's Day Block Party | CANCELED
March 14 San Diego Leprechaun Run | CANCELED
March 15 Bridal Bazaar at Del Mar Fairgrounds | CANCELED
March 26 Padres Opening Day | POSTPONED
March 26 East Village Opening Day Block Party | CANCELED
MARCH 29 Awesome 80's Run | CHANGED to a virtual run format only.
MARCH 29 Picnic in the Park | POSTPONED
April 10-12 WonderCon Anaheim | POSTPONED
April 10-12 and 17-19 Coachella | POSTPONED until October 9-11 and 16-18, 2020.
April 24-26 Stagecoach | POSTPONED until October 23-25, 2020.
The Old Globe has suspended public performance now through the end of March.
The San Diego Padres will not hold any events at Petco Park for at least the remainder of March.
California Center for the Arts, Escondido is canceling or postponing all events.
SCHOOLS and UNIVERSITIES Impacted:
San Diego State University SDSU | Following Spring Break, effective April 6, 2020 all courses will be conducted online, not on campus or classrooms.
San Diego State University SDSU | All sporting events and team activities have been suspended until further notice.
University of California San Diego UCSD | Will begin conducting all courses and lectures remotely on March 25 when the spring quarter begins.
Southwestern College students and campus staff are moving all in-person classes to online or distributed instruction from March 16 - 20.
NATIONAL Cancellations and Postponements, including SPORTS:
Disneyland and Disney California Adventure Park will be closed starting Saturday, March 14 and continuing through at least the end of March 2020.
Universal Studios Hollywood will closed with a targeted reopening date of March 28, 2020.
Live Nation is "hitting the pause button on current touring arena shows through the end of the month" (March).
NBA the National Basketball Association has suspended its season TFN due to a player testing positive for the virus.
MLB Major League Baseball is suspending spring training and the start of the regular season.
NHL and AHL National and American Hockey Leagues have decided a few hours later to suspend their seasons indefinitely.
The NCAA has cancelled March Madness, plus SEC, Big Ten, Ivy League, AAC, MAC, ACC, Big 12 and WAC have all cancelled their conference tournaments.
The National Lacrosse League NLL has temporarily suspended play.
The USL United Soccer League on March 12 announced that it will postpone play for at least 30 days.
San Diego Seals lacrosse season temporarily suspended over coronavirus outbreak.
San Diego Loyal S.C. had already postponed its home match scheduled for March 14 until July 29 but now the United Soccer League has suspended play for a month.
Division-2 schools have been impacted, as well. The NCAA Basketball Tournament West Regional that was scheduled to be held at U.C. San Diego starting on Friday is not happening. The Tritons, at 29-1, were expected to contend for a national title and all eight teams scheduled to play ... including Point Loma ... are already in town practicing at RIMAC Arena.
There will be no baseball, softball, lacrosse, men's volleyball, golf, rowing, tennis, outdoor track and field or women's water polo national championships this year. Furthermore, San Diego State and the University of San Diego have both decided to cancel all Spring sporting events.
Be sure to check back to get the latest event updates.