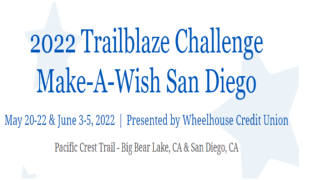 2022 Trailblaze Challenge
WHAT: The annual Trailblaze Challenge San Diego is more than a hike. It is more than a fundraiser. The Trailblaze Challenge is a life-changing endurance experience that challenges participants physically and emotionally, and ultimately helps Make-A-Wish San Diego grant wishes to the 350 children with critical illnesses in our region.

Whether a novice hiker or advanced outdoor enthusiast, participants will have the opportunity to explore new trails, build confidence outdoors, and create life-long friendships all while training for the 28-mile trek on the iconic Pacific Coast Trail and raising funds to support wish-granting in our community. The Trailblaze experience represents the most impactful event in Make-A-Wish San Diego's history, raising over $1 million between 2020 & 2021.
WHEN & WHERE: Hike Weekends
May 6-8 ( San Diego)
May 20-22 (Pacific Crest Trail at Big Bear Lake, CA)
June 3-5 (Pacific Crest Trail at Big Bear Lake, CA)
WHO: Presented by Wheelhouse Credit Unionand supported by Frank Subaru,each Big Bear hike weekend anticipates 100+ hikers participating, with 70 hikers participating on our local route, along with over 30 trained hike leaders and medic volunteers for each hike.
2022 Hiker Highlights:
Wish kid Ben, 19 (who wished to meet a platypus eight years ago when he was battling leukemia)
Wish Mom Deb Burt and Team Sam's Posse (whose son, Sam, had a wish 11 years ago in San Diego)
Wish Alum Megan (had her wish 15+ years ago in New Jersey!)
3-year-event veteran Rosemary, 83, (who hiked the challenge for the first time at 80 years young)
Make-A-Wish San Diego CEO & President, Suzanne Husby hiking her 3rd year now
And many more past hikers, novice hikers, and San Diegans with connections to former wishes granted in our community coming together.
HOW:
All new hikers will need to sign up for a FREE info session to learn about the challenge commitment between now and February 16—RSVP at www.trailblazechallengesd.org.
Also be sure to follow them on Instagram to get to know the event hiking community, training info, and/or ask questions @trailblazechallengesd.
Companies interested in getting involved as a community partner with a hike team or event support can email event director Katie Wood at kwood@sandiego.wish.org to learn more.