On South by Southwest's (SXSW) opening day, I visited one of the most unique spots to experience live music.
Located in a historic neighborhood just south of downtown Austin, Lustre Pearl is an eclectic bar found in a stripped-out, old house. With people drinking and socializing on the front lawn, you enter the house to find a bar in the living room and a back patio that opens up to a stage (with picnic-table seating). Lustre Pearl's packed house was the site of the San Diego Hoe-Down. Produced by the North Park Music Thing and the San Diego Music Foundation, the Hoe-Down served Stone brew, Wahoo's fish tacos a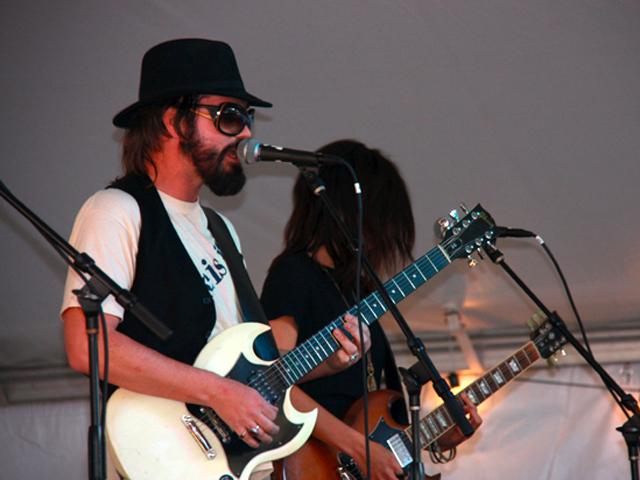 nd some of San Diego's finest talent.
On the bill: Dirty Sweet, Steve Poltz, Transfer, El Ten Eleven, Tape Deck Mountain, and the Nervous Wreckords (featuring members of Louis XIV). Each act blazed through a tight 30-minute set on a beautiful Austin afternoon that was reminiscent of San Diego weather.
Brian Karcig (pictured, right) of the Nervous Wreckords, had the following to say about the San Diego Hoe-Down : "I've got a nice buzz, I'm surrounded by friends and playing music, it's amazing ! I have showcases all week but couldn't imagine a better way to spend the first day of South By."
In addition to artists, a handful of San Diego venues were represented on-site, including the Loft at UCSD, the Belly Up Tavern and Bar Pink. A tremendous turnout -- it was a pleasure seeing San Diego so well-represented in the live music capital of the world, Austin, Texas.
Published at 11:53 AM PDT on Mar 18, 2010 | Updated at 3:47 PM PDT on Mar 18, 2010