A few years ago, when MySpace was a more relevant term, I stumbled across a link somewhere in the vast depths of Internet and it brought me to Jessica Lea Mayfield's MySpace page. That fortunate, mistaken click lead me to one of my favorite new artists.
This kind of fortune seems to court the young singer. There were only 100 copies made of her debut EP, White Lies, and one of them found its way into the hands and ears of the Black Keys' frontman Dan Auerbach. She would go on to be a guest vocalist on their Attack and Release album and Auerbach would go on to produce her 2011 release, Tell Me.
The track that baited my ears was "Our Hearts Are Wrong." It has a simple yet infectious melody and the writing sounded like Kurt Cobain taking a stab at noir country. There were large yet soft guitars, echoing tastefully against her fragile but determined voice.
This Friday, Aug. 10, Jessica Lea Mayfield will play with Langhorne Slim at the Casbah.
Langhorne Slim recently released his latest album, The Way We Move. The music is charged poetic alt-country with banjo pushing and pulling against rollicking piano and twanged vocals. The Way We Move is a break-up record that finds itself galvanized and energetic.
The album was ushered into the world by the donations of fans through pledgemusic.com. In return for the donations, Slim offered everything from presales to the opportunity of having a drink with the band -- an opportunity perhaps possible this Friday at the Casbah.
August 10, 2012:
Langhorne Slim & the Law, Jessica Lea Mayfield, Quiet Life @ Casbah
Coda Reactor, Low Volts, the Beautiful View, Children of Nova, Jesse Lamonaca @ The Griffin
The Donkeys, Bad Dad @ Eleven
Sleeping People (CD release), Devfits, Kata (CD release) @ Soda Bar
Schitzophonics, Gloomsday, Cash Crop, Small Talk @ Tower Bar
The Offspring @ Del Mar Concert Series
Monster of Rock Tribute with Damage Inc., Back 2 Black, Wag Halen, DJ Man Cat @ Belly Up
Pussy Galore featuring Slpwlkrs, DJ Robin Roth & Samazon @ Whistle Stop
D.P.I., Six Cents & Skunk @ The Shakedown
The Madeira, the Secret Samurai, El Ray @ Tin Can
Taboo @ Til-Two Club
Gregory Page @ Java Joe's
Uptown Ocean Beats presents GIRL UNIT (Night Slugs/London), SALVA, URBN:LGND, AUSTIN SPEED, CRMNL @ Ruby Room
Gaza, Eagle Twin, Kodiak, Lewd Acts, Griever @ Ken Club
Aja Lee, Neveready, the Saline Solutions @ Lestat's
Feel the Noise @ Kitty Diamond
DJ Slinkee & Ayla Simone @ U-31
RnR with Social Club, Sould Malady and H.A. Perkins @ House of Blues
Atomic Groove Happy Hour @ Belly Up
Year of the Dragon, G.F.P., the Remotes, Ralph Jug & the Deadline Jitters @ Brick By Brick
World Music with Bateke Beat and Puente @ Winston's
Nicky B with DieNasty Select @ 710 Beach Club
Mike Perez, Golden Revival, Geneva Pina, Roxanne Reed, Matt Slaven, Jovanny Michael Enos @ Epicentre
So Far Gone, Mister Wister, Lucky & Wild, Aqua-Rythm, Blue in the Face, Woolly Mammal @ Soma
Dangers, Hostage Calm, Good Grief @ Che Cafe
Viva Santana @ Humphreys Backstage Lounge
Gypsy Kings @ Humphreys Concerts By the Bay
Kinetic, the Ship & the Storm @ Flying Elephant
Sheila E & the E Family @ 4th & B
Back to the Garden tribute to Crosby, Stills, Nash & Young @ Anthology (Early Show 7:30 p.m.)
Back to the Garden tribute to Woodstock @ Anthology (Late Show 9:30 p.m.)
Chi Club, DJ Lya @ Gallagher's
John Foltz @ Marble Room
Nari & Milani @ Voyeur
Zenbu Fridays with DJ Leif @ Zenbu Cardiff
Tribe of Kings, DJ Unite, dash eye, kid riz, cros1 @ El Dorado
Fix Your Face with Rober Ri'chard @ Spin
Ritual with DJ Brett Bodley @ Fluxx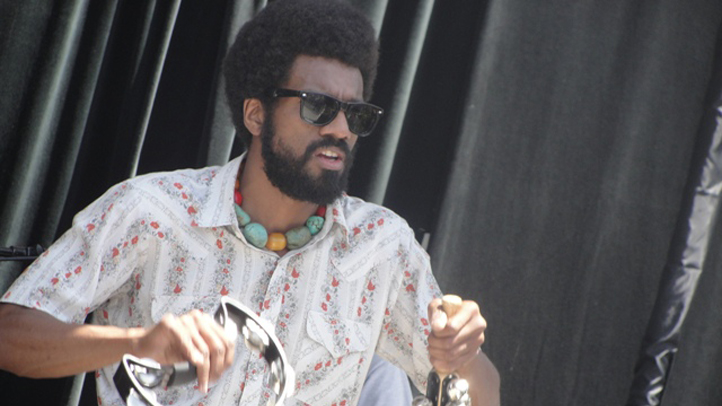 Alfred Howard writes lyrics for the Heavy Guilt and the Black Sands. He also writes music reviews for Owl and Bear.