Great artists change. And great change is sincere. When the Beatles migrated from the pop simplicity of "Love Me Do" to the torrential soundscaping of "Tomorrow Never Knows," it was a move out of necessity, a sonic premonition of changing times. Whenever artists make these drastic leaps in any direction, they're generally met with both hesitance and embrace. As listeners, it is all too easy to cling to the familiarity of an already comfortable past.
On their third album, the self-titled Delta Spirit, the band has taken a bold step in a new direction. It has moved on from the jangly back-porch perfection of Ode to Sunshine, but after multiple listens, the move feels honest. As Delta Spirit's path has lead them to bigger venues and larger audiences, a bigger sound is required. The production is lush, vast and eclectic, but strip away the layers and you still have the brilliant songwriting, the rollicking playfulness and the heartfelt rasp of Matthew Vasquez's lead vocal.
On the album's opener, "Empty House," you get a natural segue from their previous effort, History From Below. The song is a guitar-fueled story of introspection: "I got this limp from a favor I did/Some folks don't like charity." As soon as we reach the interlocking guitar work of "Tear It Up," the band's new sound is on display. The song has a great dynamic, and the ebullient guitar work is as catchy as the chorus. "California" is anthemic without actually containing a chorus and calls to mind the sound of another great San Diego band, Transfer. "Telling the Mind" begins with a Tom Waits-ian percussive treatment and settles into a Springsteen-esque sermon. A standout track on the album is "Time Bomb," which captures elements of the band's past as well as its future -- you get an equal sense of roots and growth, the synth tracks are subtle, the vocals rich, and the music anchors the poetics perfectly.
I think the future will look back on this album as a bold step forward for a great rock & roll band.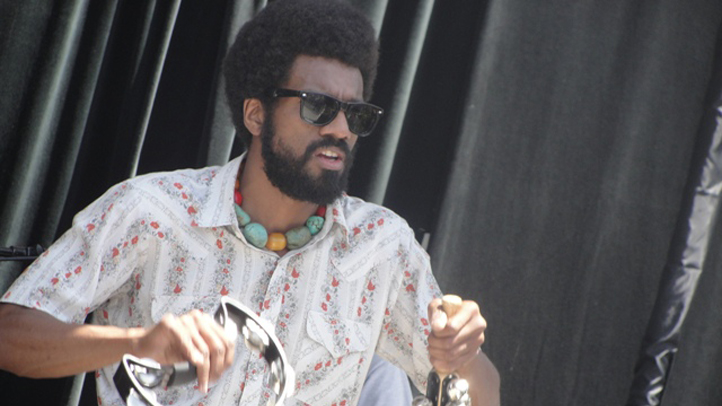 Alfred Howard writes lyrics for the Heavy Guilt and the Black Sands, He also writes music reviews for Owl and Bear.