We don't know if it's the mild chill or the sudden onslaught of bulk candy now available at CVS, but Halloween is making itself known in San Diego. So it's not surprising that the Brooklyn band Milagres' latest release, Glowing Mouth, conjures up deviously carved pumpkins with crooked smiles revealing flames in their bellies. The record is, in fact, quite dreamy and haunting, with vocals that remind us of Grizzly Bear and Timber Timbre. Tracks like "Lost in the Dark" and "Gentle Beast" give us the chills, in a good way.
The band is slated to perform at Soda Bar Oct. 28, so when we caught up with the band, we thought it might be fitting to ask them about their best Halloween costumes from the past. They were great sports about it, even providing photographic evidence of some interesting choices. There are no winners or losers here, but if we had to pick, we'd go with Eric Schwortz's storm cloud. Be sure to catch them at Soda Bar along with Long Live Logos, Grandchildren and Nicely.
Fraser McCulloch (bass):
"My fav was Magnum PI because I got to grow out my moustache non-ironically -- just Halloweenily. In fact, ditto that reasoning for the Hawaiian shirt that was part of the costume. A costume fit for a king (of comfort )... or Tom Selleck."
Eric Schwortz (guitar):
"My Tom Cruise costume (2006?) was lazy. I never worked out the choreography for my "Thriller" zombie (2010), and everybody dresses up as a Ghostbuster (2003) or Richie Tenenbaum (2004) these days. My most rewarding costume was home-made, simple and semi-conceptual. I was a storm cloud (2008). I spray-painted and glued cotton balls to a gray thermal, constructed a hand-held lightning bolt out of foam board -- painted bright yellow -- to carry around and had a spray bottle with water for the rain. It was graphic and cartoony in the best way. I felt like a super hero."
Steven Leventhal (percussion):
"Billy Mays ... definitely Billy Mays. Although. admittedly it did lack some amount of taste as he had recently passed away, I wasn't so much making fun of him as remembering his persona. I remember growing my beard and mustache out just for the part. I think that's actually when I started to wear my facial hair the way I do."
Kyle Wilson (vocals):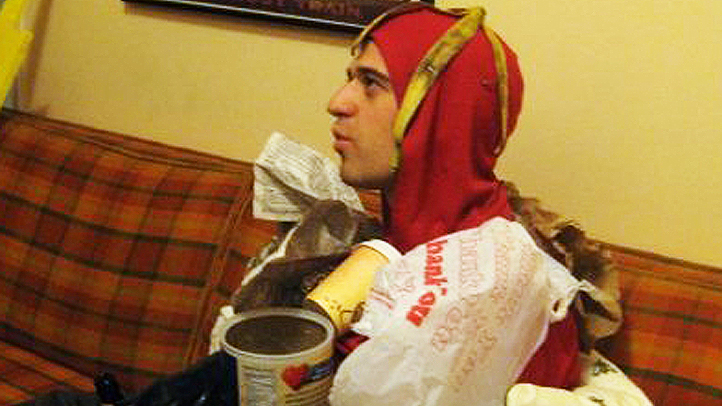 "I am generally pretty great at Halloween, if I may say so myself, but my crowning accomplishment was my Bag of Trash costume. It was improvised using what I had around the house: Trash! I cut arm and leg holes out of a trash bag, got in, emptied my kitchen trash into it and then paper clipped a bunch of trash all over myself, including a banana peel on top of my head which did not look pretty by the end of the night."
Chris Brazee (piano/keys):
*Chris denied comment on this particular issue. The heart-throb lead keyboardist of Milagres has become notoriously protective of his private life due to accusations that he leads a double life as the guitarist for Phish, Mr. Trey Anastasio.
Nada Alic runs the San Diego-based music blog Friends With Both Arms.Follow her updates on Twitter or contact her directly.
Published at 2:47 PM PDT on Oct 27, 2011