It was a sweaty night at the Belly Up as the unrelenting heat of the summer turned the room into a sauna. The energy of the sardine-tight sold-out crowd added to the sultry swelter, but it also conjured up the right environment for a barrage of blues-touched rock & roll. The fans were there and focused early, baited by a strong bill of rising San Diego bands at different levels of trajectory.
Bunny Gang were the first up, celebrating the release of their debut CD 1. One Guitar, a drum set and an engaging vocalist were the trio's ingredients for blues rock, recalling the earlier Black Keys albums. Vocalist Megan Liscomb slowly slithered across the stage with a sly sexual energy, hypnotizing the crowd. Drummer Adam Eidson plays driving complexities that don't lose the rawness needed for the garage elements of their sound. And with massive guitar riff's from Dustin Lothspeich, this becomes an exciting new band to watch evolve.
When Dead Feather Moon took the stage, the room was filled to capacity. The audience members had their fists raised and ready. DFM's set began with vocals repeating "Moving on like a silhouette/Leaving me without a light/Oh, late night." Soon the solitary voice was anchored by the kick-drum pulse, then the three-guitar assault began and didn't let up for 45 minutes. One of the highlights was the slow 3/4 blues of "Dead on the Tracks" which traversed the terrain from grimy sparseness to a big guitar climax as singer Justin Berge repeatedly sighed, "You put the struggle in my songs/The sorrow in my wrongs". After the dam breaks, the song slowly fades with Greg Peters' lap steel ambience, almost Floydish in its tone and spaciousness.
Little Hurricane have been one of San Diego's most successful breakouts in recent memory. They appeared in a quick flurry and were soon off to the huge stages of Lolapalooza, SXSW, Austin City Limits and are even headed to Australia in October. This
Belly Up
night was a special show for a number or reasons: They hadn't played San Diego for awhile, so it was a homecoming of sorts. Also, they were also filming and recording live. The stage setup gave the rustic vibe and thoughts of simpler times. There were four wooden fences, each with a dimly lit lantern attached, coupled with a few other lamps -- the band brings living room intimacy with it. Shouts of "We Love You, C.C." greeted them as they hit the stage with "Crocodile Tears," from their debut. They ran through about an hour and a half set of old and new songs, having recently recorded their second album. One of their gifts in songwriting is quick, short hooks that are memorable the second time they're heard -- even the new songs have a certain familiarity to them before they're finished. One of the best moments was a new song called "Superblues." It had a triplet staccato guitar riff and C.C.'s full ownership of the thunderous drum beat. If it was a sign of what's coming next for this young band, they're in a great position to continue onward and upward.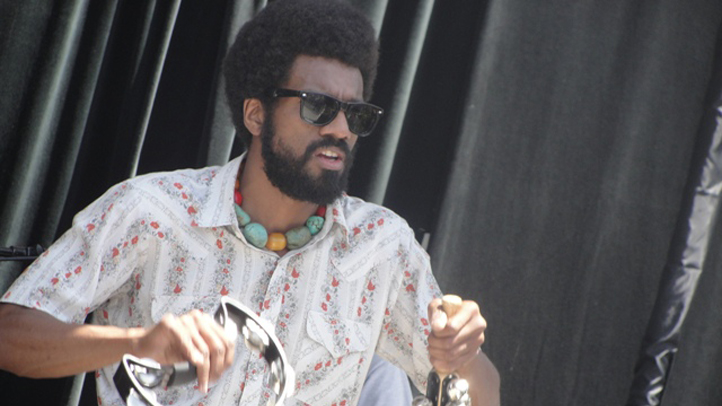 Alfred Howard writes lyrics for the Heavy Guilt and the Black Sands. He also writes music reviews for Owl and Bear.
Published at 2:00 PM PDT on Sep 2, 2012 | Updated at 10:49 PM PDT on Sep 2, 2012