When Radiohead released Kid A., it was a bold yet ambient declaration of the guitar solo's death. The landscape of rock & roll was forever changed, and the stunt bombast which had propelled it to such great heights became more introspective and atmospheric. Reignwolf's arrival is a lightning-bolt affront to the previous statement. It's an homage to the acid-drenched blues of the late '60s, teeth bared, feral and cornered. It's music played with something to prove, a legacy to uphold and ears to conquer.
On Monday night,Reignwolf stormed into the Casbah as if on a mission. Singer/guitarist Jordan Cook began the show solo. He started with a steady kick drum, electric guitar and vocals howling the song "Electric Love." He moved over to the drum kit and played a full kit with his right hand and both feet while responding to his drum fills with rhythmic riffs played with his left hand alone. Screaming vocals to compensate for the lack of a mic, sweat-drenched and serpentine, he moved back to the mic to finish the song. It was raw, caustic; his voice sounded like he was singing around serrated knives for his life. It sounded huge for one man, but when he brought up the band, a wall of sound was erected instantly.
Joined by a drummer and a second guitar (ran through a bass amp as well as a guitar amp to hold down the low end), the band burned through riff-heavy, pummeling electric blues. They stood beneath flashing lights, a frenzy of movement and sound, raining sweat and putting every ounce of energy into the performance.
At one point Cook grabbed his sm57 microphone and began to use it as a slide, shouting vocals, still audible above the barrage. Soon after, he was in the audience, soloing with dexterity, then back onstage, standing on the monitors, messianic. Some of the moves could call to mind gimmickry, but there is a tradition of muscular flamboyance in the blues. If you can back up your showmanship with chops, you're granted the license to impress. And chops were on full display.
The music recalls a young Alvin Lee of Ten Years After, with rapid runs and flurries of notes. Sometimes it brought to mind the slow, droning psychedelia of Earthless or the languid blues of Robin Trower, but I'd be criminally remiss if I didn't mention Hendrix. Not even in the sonic quality of the music, but the impression that the audience left with, mouths agape as if they had just witnessed the stuff of legend.
Next time Reignwolf stalks into town, hungry for new ears, the room will be a larger one.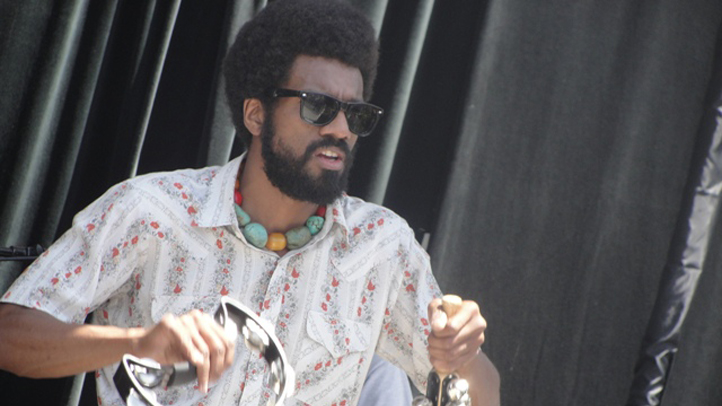 Alfred Howard writes lyrics for the Heavy Guilt and the Black Sands. He also writes music reviews for Owl and Bear.