Ashley Matthews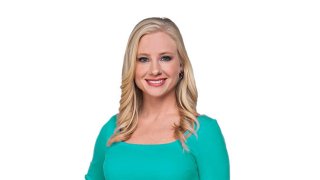 Ashley Matthews has performed just about every on-air position at NBC 7 since joining the team in 2016. You've seen her out on the streets reporting for every show; as well as working as a multi-media journalist, Weather Anchor, News Anchor and most recently, Traffic Anchor on NBC 7 News Today Monday-Friday 4:30am-7am. Ashley also focuses on weekly segments, highlighting road infrastructure projects and mass transit. Ashley is a recipient of an Emmy Award for her work on NBC 7 News Today and helped create new, innovative ways to show traffic trends each morning to viewers through maps and breaking news elements.
Ashley is thrilled to be back in San Diego! She's originally from Wisconsin and moved to San Diego for college; a Cal-State San Marcos graduate. She's also a former intern of NBC 7. Since then, Ashley has worked at stations across the country; beginning her reporting career in Bemidji, a small city in northern Minnesota. From there she went on to work at two stations in Grand Junction, Colorado where she was the Morning Anchor/Reporter/Producer/Weather Forecaster and Evening Anchor/Reporter/Producer. During her time in Colorado, Ashley covered destructive wildfires that spread across the entire state.
Ashley then moved back to her home state of Wisconsin where she was the morning Anchor and Reporter for the NBC affiliate in Madison. She's a huge sports fan and was honored to travel across the country reporting on the Badgers Men's Basketball team's quest for an NCAA Championship title. During her time in Wisconsin, she received awards from the Wisconsin Broadcaster's Association for "Best Live Reporting" and "Best Feature Story." Ashley has also trained in many areas of the newsroom; including producing, assignment desk and digital. When she's not tracking down the next big story, she enjoys home improvement projects, exploring new places around San Diego, hiking, hanging out at San Diego Zoo and spending time with her three-pound and five-pound dogs. No, that's not a typo.