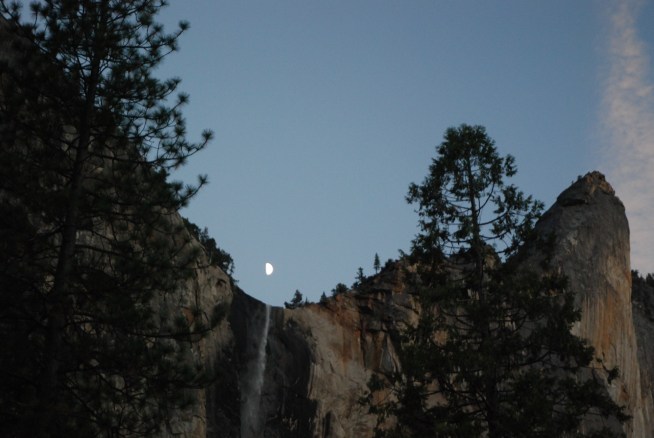 Meredith French
Hello Whitney: Boy, I have had a devil of a time trying to get this picture to you. It says that only cell phones and video should go through ISee. When I try the other avenue, it will not accept my signage of terms and conditions, will not send me to someone who can help, will not show that my upload is complete. So I am going to try it through ISee. Here goes: I took this photo recently in Yosemite. I had promised some friends that I would act as their tour guide. We arrived too late for sunset but I did spot the moon rising ove...
There's a battle brewing in Yosemite, and it's pitted a wide range of interests against each other according to the Contra Costa Times.
If you've spent time driving around the national park, you've probably encountered a strange one-lane bridge over a stream. Traffic lights on each end alternate in a cycle that lasts several minutes: first westbound traffic is allowed through for a while, then eastbound. It's a slow process that results in lengthy delays, and could be vulnerable to floods.
The reason for the bottleneck is a landslide that occurred five years ago on Highway 140. With the highway blocked, engineers had to act fast to install a temporary solution. But a longer-term fix has proven more difficult.
They could bring a cement bridge, but that's clearly inappropriate for a national park since it would spoil the natural surroundings.
Or they could install two viaducts, but that would destroy a wildflower area.
Or they could tunnel under the landslide, but there's a rare salamander living in that area and construction would wipe it out.
And then there's one last option: just keep it the way it is and cross your fingers that it doesn't fall over or wash out.