A Good Stretch
Flex your muscles and your style with alluring activewear.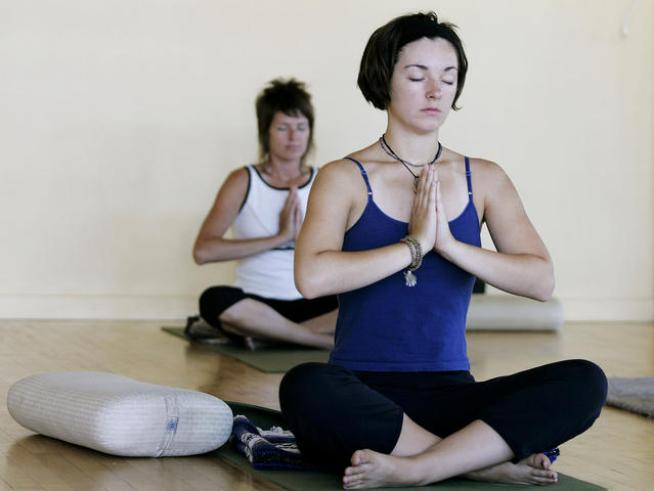 AP
Nicole DiBacco, right, holds a pose Tuesday, July 26, 2005, during a class at the 8 Limbs Yoga Center in Seattle. Even though the slow stretches and meditations of yoga don't burn calories like a run on the treadmill, a new study indicates that it might help people lose or maintain weight in their middle ages. (AP Photo/Ted S. Warren)
GET PANTSED: Lululemon's name will make you do a double-take, and their sleek athletic clothing will get you double-takes of your own. Aside from their extensive selection of stretch pants and commanding sports bras, this store also offers yoga equipment, wicking-wear for men and even lacy stretch undies for the saucy yogi. Although the price points will remind you that you are shopping in La Jolla (around $40-$120), the quality and comfort will ease any resulting sting. Be sure to check out their free yoga session every Saturday at 8:30 a.m. and free pilates classes every Tuesday at 6:30 p.m.
GET IT ON: For the general female adventurer, Lucy in La Jolla serves up stylish athletic wear for yoga, running, hiking and just general running around. Their prices are a little more affordable ($30-$80), and they are currently having a bunch of two-for sales, including $30 off any purchase of two or more pants. Ask them about their next Fitness Friday on September 11th.
ROCK OUT: Away from the fray of downtown La Jolla sits Bird Rock, a quaint area just north of Pacific Beach. Here, Bodywear Boutique sells a variety of yoga clothing, activewear and comfortable flowing tops and dresses. This is the place to visit if you like affordable sportswear with fun prints and colors, or want an easy dress to slip on after a workout. Don't miss their sales rack with 30-70% off tops and bottoms.
PURE BLISS: Previously in Normal Heights, Blisswear Boutique is relocating to South Park but they're still selling signature lines of fantastically comfortable and colorful yoga wear. The owner specializes in custom orders and can help blooming designers create their own labels, too. Keep an eye on her new store at Fern Street for some local up-and-comers.