10/17, Quick, Get Your Chef Hat!
Spend your Sunday cooking like a pro.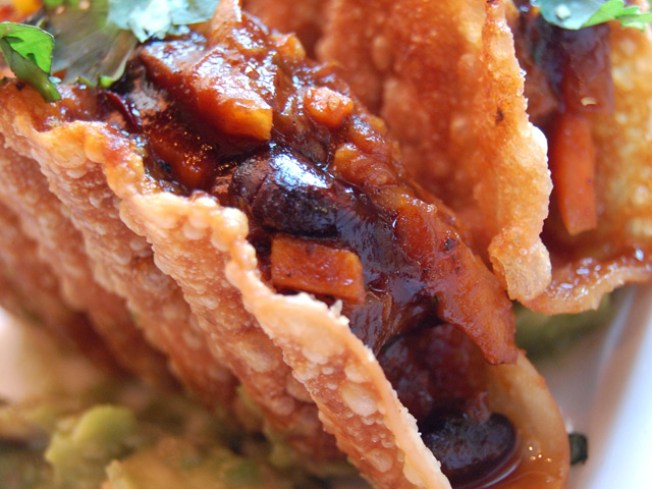 Martha Sarno, Sarno Photography
Nacional 27's BBQ'd Lamb Tiny Tacos
What's in it?
We season and slow braise the lamb shoulder for 12 hours, then mix the lamb with a homemade blue agave barbecue sauce, jicama and carrot. Then we fill some mini taquito shells with the lamb filling and place it on a cool bed of guacamole. The homemade barbecue sauce has ancho pepper, chipotle pepper, guajillo pepper, vinegar, hoisen and blue agave syrup. The tacos are garnished with a little chopped cilantro.
Suggested Pairing:
"I would recommend the richly balanced El Corazon Margarita (Corzo Silver tequila, pomegranate, passion fruit, blood orange and a kosher salt and tellicherry pepper rim, $14) or a bold red wine from Spain." -- Bar Chef Adam Seger
How much is it?
$3.95
Chef Tim Hockett says:
"This dish is a playful, tasty version of traditional lamb barbacoa found in Mexico. It combines the spicy lamb with a crunchy taquito shell, cool guacamole and a sweet barbecue sauce, making for a great appetizer."
Nacional 27, 325 W. Huron, 312-664-2727 VIEW DINNER MENU
Published at 6:15 AM PDT on Oct 17, 2010