Chargers Fun Fact: The Legendary Dan Fouts
The man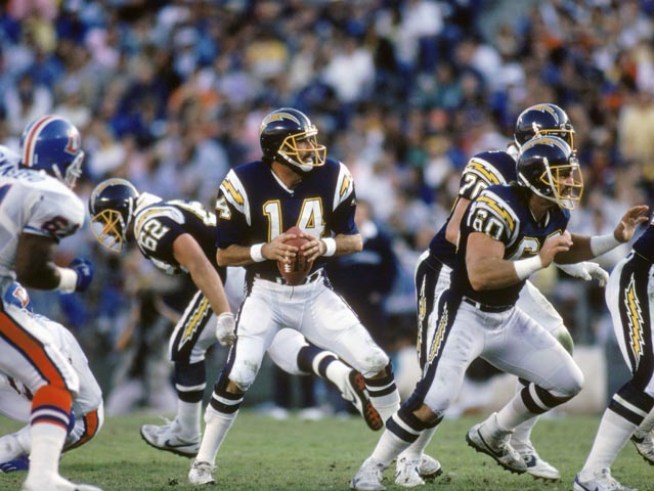 Getty Images
SAN DIEGO - NOVEMBER 29: Quarterback Dan Fouts #14 of the San Diego Chargers looks to pass during a game against the Denver Broncos at Jack Murphy Stadium on November 29, 1987 in San Diego, California. Fouts completed 23 out of 48 passes for 322 yards and 2 interceptions. The Broncos won 31-17. (Photo by George Rose/Getty Images) *** Local Caption *** Dan Fouts
In 1982, Dan Fouts became the first QB in history to throw back-to-back 400-yard passing games.
Chargers QB Billy Volek is the only other Charger with this distinction.
In 1979, Fouts set an NFL record by passing for over 300-yards in four consecutive games.
Dubbed the pilot of the "Air Coryell" offense, Dan Fouts retired from the NFL after 15 years with the San Diego Chargers. He got his first taste of football hanging out with his father, Bob Fouts who was an announcer for the San Francisco 49ers. Fouts landed his very first job for an NFL team as the ball boy for the 49ers.
CHARGERS COVERAGE
Complete Coverage: San Diego Chargers
SPORTS NEWSLETTER
Stay connected to what's going on in sports by signing up for our daily newsletter.