Teacher Accused of Offering Student Money for Sex in Facebook Message
Monday, Feb 25, 2013 | Updated 6:27 AM PDT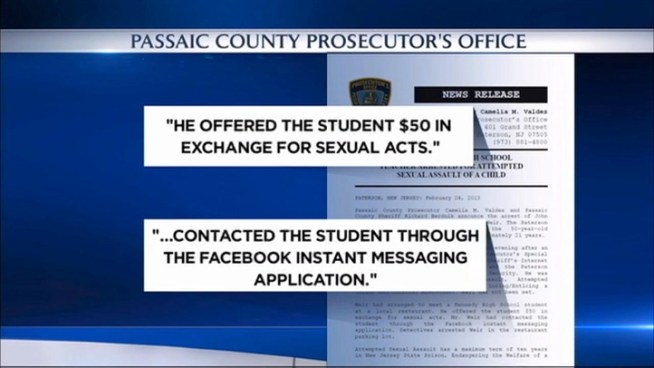 Gus Rosendale
A veteran teacher in New Jersey is accused of using Facebook to lure a student to a restaurant, and then offering him money to perform a sex act. Gus Rosendale reports.
A veteran New Jersey high school teacher was accused of contacting a student through Facebook and offering that student cash in exchange for sexual acts, prosecutors said.
Thomas Weir, a teacher at John F. Kennedy High School in Paterson, N.J., was arrested Saturday evening in the parking lot of a restaurant where he planned to meet the student, authorities said.
Weir, 50, was charged with attempted sexual assault, attempted endangering the welfare of a child and official misconduct, among other crimes. The Monticello, N.Y., resident has been employed by the Paterson Board of Education for more than two decades.
Prosecutors said Weir contacted the student through Facebook instant messaging and offered the student $50 for a sexual encounter.
Weir faces a maximum of 40 years in prison if convicted of all the counts against him. Bail had not been set as of Sunday evening.
It wasn't immediately clear if Weir had an attorney.