Missing Rings May Help Solve Elderly Woman's Murder
Blanche Griffin, 87, was found murdered in her Golden Hill home on July 10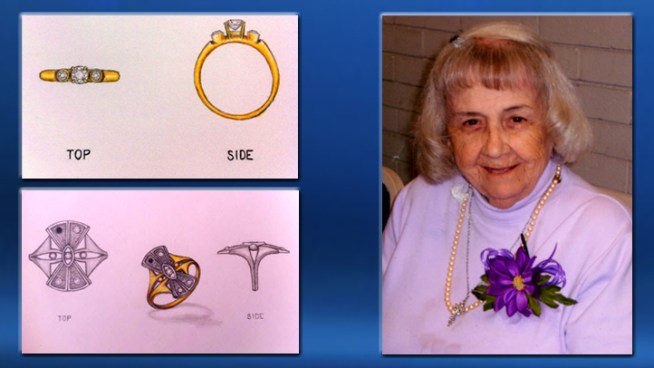 Pictured are missing two rings that police hope will help solve the murder of 87-year-old Blanche Griffin (right). Griffin's body was found in her Golden Hill home on July 10. Along with Griffin's rings, a Dell computer was also missing from the home.
San Diego police are asking the public for information regarding the murder of an 87-year-old woman who was found in her Golden Hill residence on July 10 and the location woman's missing jewelry.
The body of Blanche Griffin was found in her home in the 2800 block of F Street after patrol officers responded to a 911 call of a woman down at around 2:37 p.m.
Officials said Griffin died as a result of suffering blunt force trauma.
A preliminary investigation of Griffin's home concluded that several pieces of jewelry belonging to her, including two rings, were missing. On Thursday police released sketches of the missing rings in an effort to get more information in the case.
Also missing from the home was a silver Dell desktop computer, with a model number of 745, according to a media release.
The suspect in the case, Jeff Boswell, 43, was charged with Griffin's murder on Aug. 13 after being arrested for an unrelated incident on Aug. 2.
Anyone with information about Griffin's murder is asked to call the SDPD Homicide Division at (619) 531-2293 or the Crime Stoppers anonymous tip line at (888) 580-8477.