Water Main Break Closes Lanes of Friars Road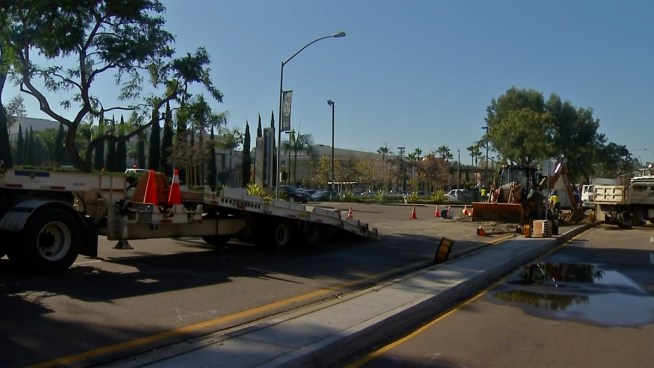 NBC 7 San Diego
Crews continued making repairs New Year's Day on a water main that broke on Friars Road Tuesday.
A water main break Tuesday caused problems overnight that trickled into Wednesday on a busy street in Mission Valley.
According to the water department, a 6-inch concrete pipe broke around 10 a.m. Tuesday on Friars Road, near the Cheesecake Factory entrance to Fashion Valley Mall.
Officials issued a Sig Alert for the area as crews worked to repair the break.
Two eastbound lanes in the 6900-7100 blocks of Friars Road were closed, creating a traffic back-up both on the street and in the mall. Police were on scene directing traffic.
Initially, repairs were expected to be completed by 10 p.m., however work in the area extended through overnight and into New Year's Day.
As of 7:40 a.m. Wednesday, officials said the Sig Alert was still in place, with just one lane open in both directions on Friars Road.
Officials said crews expect to have the water main fixed by noon, at which point the Sig Alert will be lifted.