Southcrest Pursuit Ends in Crash, Arrest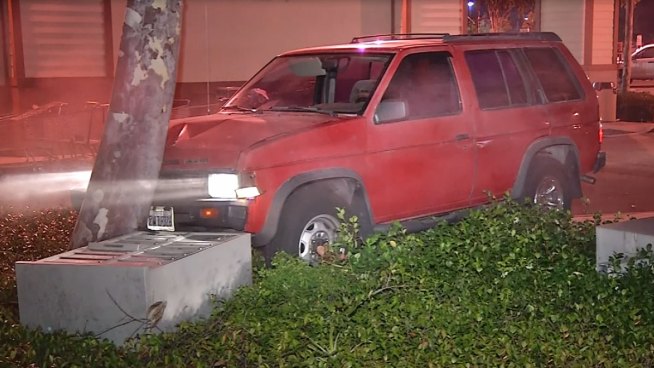 This is video shot at the scene of a pursuit that started on I-805 south near SR-94 and ended up behind a market after the driver hit a tree and a mailbox early Wednesday.
A man was taken into police custody after a pursuit through Southcrest ended in a crash, officials said.
San Diego police officers said when they attempted to pull over a red SUV around 10:30 p.m., the driver refused to yield.
A pursuit began on Interstate 805 and headed south near State Route 94.
The pursuit ended a couple minutes later when the SUV got onto 43rd St because police say it was too dangerous to follow him on city streets.
When the SUV hit a tree and a mailbox behind the Northgate market in the 1400-block of 43rd Street, the driver fled on foot, officials said.
The engine of the SUV was left running.
Officers later found the driver still in the area around 11:20 p.m.
More Stories From NBC 7: