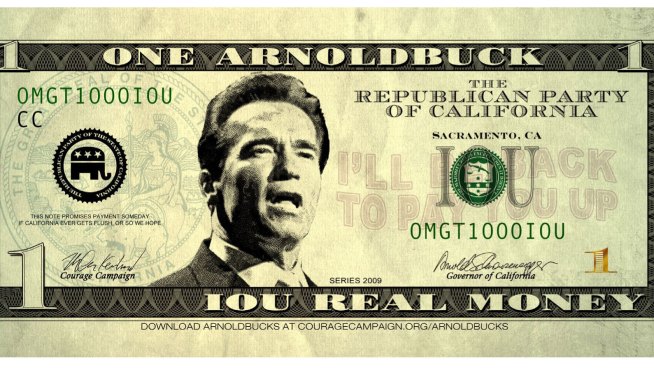 Courage Campaign
Democrats are capitalizing on IOU confusion by printing up "Arnoldbucks." Warning: Not legal tender. Yet.
If you want to cash in that IOU from the state of California early, you're going to need a notary.
That's because after reports surfaced of buyers looking to purchase the bills online, State Treasurer Bill Lockyer says that his office will not redeem the notes unless a notarized bill of sale signed by the original payee is presented.
Lockyer has asked eBay and Craigslist to post a note with the policy on their Web sites.
The IOUs can be redeemed on October 2 for the stated value plus 3.75 percent annual interest.
Citizens are receiving the notes for tax refunds which went out last week.
If you need cash so bad, why not print up some Arnoldbucks instead? They're not legal tender, but former San Francisco Supervisor Aaron Peskin did get some free drinks for tipping a bartender with one.
Jackson West figures a sex worker who's also a notary could really cash in these days.