Painkiller Bandit May Be Tied to Other Heists
He's after pills and he could be responsible for a string of similar crimes across San Diego according to police.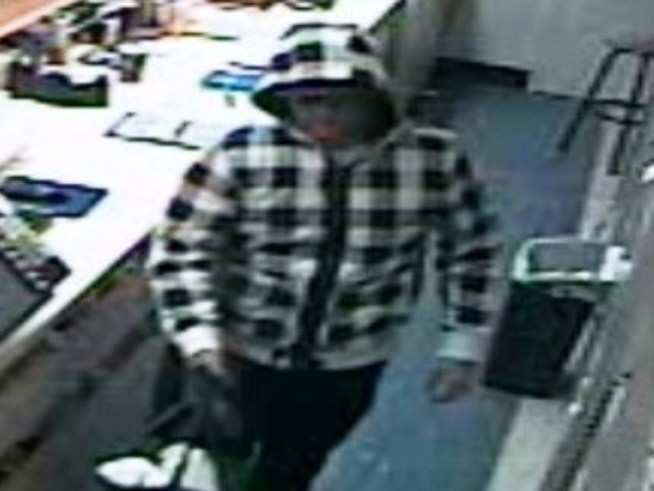 Crime Stoppers
Investigators said one of the men showed a black semi-automatic handgun to a clerk at the State Bros. Market in the 13550 block of Poway Road in Poway on Feb. 19 at about 9 p.m. after pushing his way into the pharmacy. Then he demanded Oxycontin and other prescription drugs, he fled with his haul in a green reusable shopping bag.
The suspect in a pharmacy robbery knew just what he wanted and even brought his own reusable shopping bag to carry the loot.
The man who robbed the Stater Brothers on Poway Road Monday night could be the same man responsible for other robberies including pharmacies in Mira Mesa and Escondido, investigators said.
The suspect lures the pharmacist from behind the counter asking for a specific product and when the pharmacist heads back to his station, the suspect tries to get behind the counter.
On Monday, the suspect got into a struggle with the pharmacist, according to Detective Chris Cross and that quickly ended after the suspect revealed a handgun.
"He lifted his sweatshirt and actually drew it and held it by his side as he demanded certain things from the pharmacist," said Cross.
The man took oxycontin, as well as other painkillers and brought his own reusable shopping bag to help carry the bottles out.
"It was well over $15,000 with a variety of different prescription medications," Cross said.
Investigators believe the suspect could be a drug addict, but it's more likely he's a dealer, because pain pills are a big money maker on the street.
" Oxy is averaging anywhere from $50 to $60 a tablet if not more," Cross said.
San Diego Crimestoppers is offering $1,000 reward. Crime Stoppers is offering a reward of up to $1,000 for information leading to an arrest. Tips can be called in anonymously to 888-580-847