Padres Have A Winning Streak!
Make It 3 In A Row For San Diego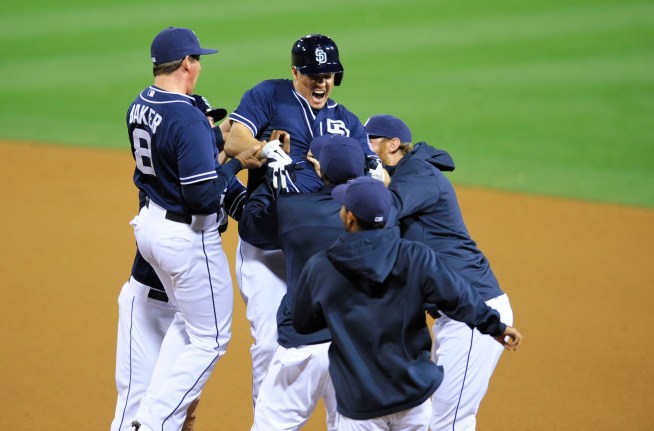 Getty Images
SAN DIEGO, CA - APRIL 27: Nick Hundley #4 of the San Diego Padres, center, celebrates with teammates after his game winning hit in the 12th inning of a baseball game against the San Francisco Giants at Petco Park on April 27, 2013 in San Diego, California. The Padres won 8-7. (Photo by Denis Poroy/Getty Images)
The Padres beat the Giants 8-7 in 12 innings on Saturday night. It's just the second time this season they've strung together 3 straight wins.
It's also the 3rd straight game they've won by one run.
San Diego fell behind 5-0 but in the 4th inning the Padres offense went bonkers. They scored six runs to knock Barry Zito out of the game. Chris Denorfia had the big blow, a 2-run double to tie the game at 5. He scored on an Everth Cabrera single.
The 6-run outburst is the most the Padres have scored in an inning this season. Actually, they had only scored 6 or more runs in 4 games coming in to the game.
The game went to the 12th inning tied at 7. Yonder Alonso smacked a double, his third of the game, and eventually scored when Nick Hundley hit a rocket that Giants 2nd baseman Marco Scutaro mishandled.
The Padres go for the sweep Sunday afternoon with Jason Marquis on the hill against Ryan Vogelsong.