North County Residents Discuss Controversial Landfill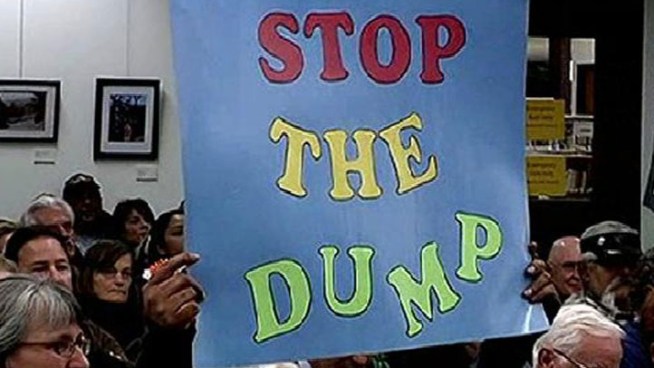 NBC San Diego
A sign reading "Stop the dump" was among the many symbols of protest by North County residents during a Fallbrook informational meeting pertaining to a proposed landfill on Feb. 23, 2011.
North County residents packed a public hearing in Fallbrook Wednesday night to discuss — and, based on room temperature, largely oppose — a controversial proposal that would create a large landfill in Gregory Canyon.
The county Department of Environmental Health, which organized the information meeting, must decide whether to grant a solid waste permit to developer Gregory Canyon Ltd.
The Pala Band of Mission Indians and various environmental groups are among the organizations to oppose the proposal. They say the 308-acre site, located on a 1,770-acre hillside about three miles east of Interstate 15 near the Pala Indian Reservation, would be built on a sacred land and will inevitably leak, threatening the region's water supply.
Organizers of the privately funded project, which has been in the works for over a decade, say the liner-sealed landfill fills an overdue need.
Also, according to the developer's website, "over 15 years of extensive environmental review have produced the safest, most environmentally protective landfill ever built in California."
A final decision regarding the permit will be made this year.