Navy Sailor Honorably Discharged For Religious Beliefs
Michael Izbicki says being a Quaker prevents him from serving in war.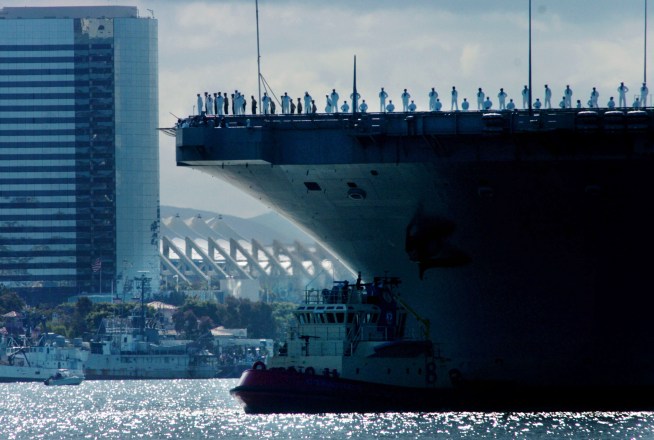 Getty Images/Sandy Huffaker
CORONADO, CA - MAY 7: Sailors aboard the USS Nimitz stand on deck as it is towed-out into San Diego Bay scheduled deployment at North Island Naval Station May 7, 2005 in Coronado, California. Approximately 6500 military personel aboard the USS Nimitz and its batttlegroup will be deployed to the Western Pacific for six months. (Photo by Sandy Huffaker/Getty Images)
A Navy sailor who grew up near Camp Pendleton has been granted an honorable discharge. The reason? He says his religious beliefs prevent him from participating in war.
In return for the conscientious objector discharge, the ACLU is dropping a federal lawsuit against the Navy.
The organization filed the suit on behalf of Michael Izbicki last year.
That's after the Department of Defense rejected his request for discharge, twice.
The 25-year old , who is a Quaker, says he followed his family tradition by enlisting in the military but his religious beliefs conflicted with the service after he graduated from the Naval Academy in 2004 and got a masters from Johns Hopkins in 2009.
Izbicki was assigned to a submarine base in Groton, Connecticut. As part of his discharge, Izbicki has to reimburse the Navy for his education.
Let us know what you think. Comment below, send us your thoughts via Twitter @nbcsandiego or add your comment to our Facebook page.