Missing Woman's Death Still a Mystery
The 23-year-old woman was discovered in the trunk of a car Thursday. She was last seen Mar. 20.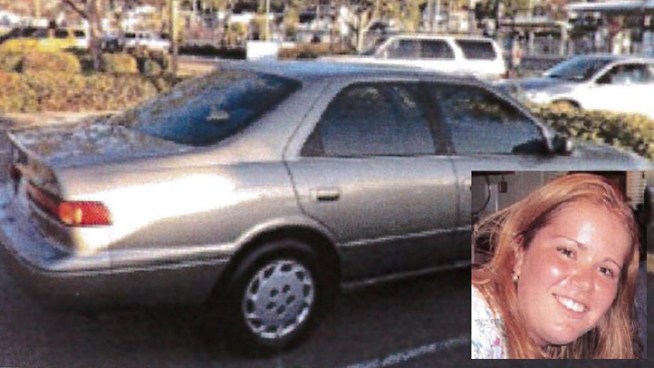 San Diego Police Department
Grace Hall, 23, and her Toyota Camry as pictured on a missing person's bulletin issued by SDPD Apr. 17.
The county medical examiner is still trying to determine what killed a woman found in the trunk of a car after an autopsy came back inconclusive.
Lt. Jorge Duran with the San Diego Police Homicide Unit said the police investigation is on hold until toxicology reports return. Duran also said police are not looking for suspects at this time.
San Diego police discovered 23-year-old Grace Ann Hall's body in the trunk of a Toyota Camry last Thursday. The car was parked in the 7700 block of Convoy Court in Kearny Mesa.
According to the Department of Motor Vehicles and SDPD, the car is registered to Hall.
Police issued a missing person's bulletin for Hall last Wednesday. They described her as a white female, 5-foot-7, 150 pounds with blond hair and hazel eyes. According to the bulletin, she was last seen the night of Mar. 20 in Serra Mesa.
Hall was supposed to travel to Sherman Oaks in Los Angeles for a job interview. It's unclear if Hall ever arrived in Sherman Oaks as planned.
Police said Hall's credit card had been used in Mira Mesa since she disappeared, but hadn't been used since Mar. 27.