Neighbors Alert Family in Mira Mesa House Fire
Firefighters arrived around 1:30 at a blazing home in Mira Mesa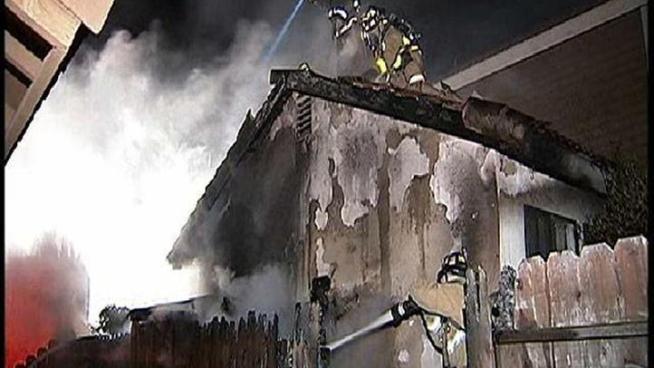 Fire damages a Mira Mesa home on Dauntless Street Friday, March 9, 2012. Resident Nicholas Pham explains how he was alerted to the fire when he talks with NBC 7's Kelly McPherson.
Fire damaged a home in Mira Mesa but the family inside managed to escape without injury thanks to a few neighbors.
When firefighters arrived to the home on Dauntlas Street around 1:20 a.m. the flames were burning on the side of the house, what appears to be the guest room.
When neighbors noticed the fire they rushed to the house, knocked on the door and rang the bell to warn the family which was inside at the time.
"I was up doing homework. And someone banged on the door. And I come outside and see a fire on the corner of it, of my house," Nicholas Pham said.
Fire crews were able to contain the fire in 20 minutes, which did not extend beyond the side room.
The house was not lost and residents were able to go back into the undamaged area.
The cause of the fire is still pending.
Keep up to date on breaking news: Download our improved iPhone app, follow us on Twitter @nbcsandiego, fan us on Facebook, sign up for our breaking news e-mail alerts or text SDBREAKING to 622339 to receive text messages for local breaking news. (For more info, text HELP. To end, text STOP. Message and data rates may apply.)