Local Scientists Spot 'Supernova of a Generation'
Supernova may be the most studied supernova in history, researchers say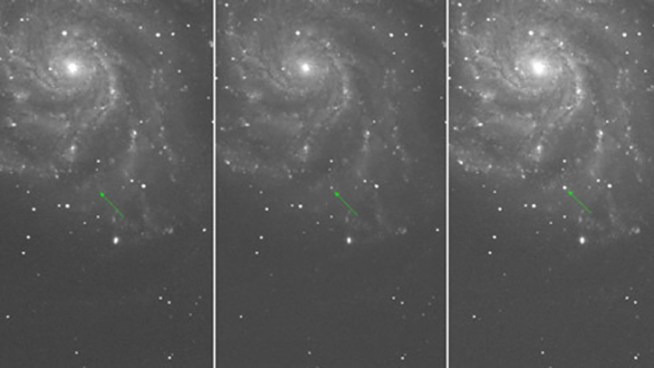 Courtesy of UC Berkeley
These three images show the supernova as it was exploding. The image on the left points to the supernova just before it self-destructed. In the middle, the supernova is 10,000 time fainter than the human eye can detect. The image on the right shows it 6 times brighter than it was the previous day.
Astronomers at UCSD helped to locate a supernova just as it was exploding using a telescope at the Palomar Observatory.
Astronomers from around California shared the groundbreaking data using UC San Diego's High-Performance Wireless and Research Education Network (HPWREN), which allowed them to digitally send their observations across hundreds of miles.
UC Berkeley astronomer Joshua Bloom called the bright, self-destructing star "the supernova of a generation." He added in a statement that this discovery will be a target for research for the next decade.
The discovery was made at the Palomar Observatory in San Diego. The data was sent to supercomputers at a laboratory in Berkeley.
Researchers credit the collaboration of California scientists for the discovery.
"It shows how effective scientific discovery can be when researchers combine their expertise," said Hans-Werner Braun, HPWREN's director in a statement.
The astronomers were delighted to have caught the supernova so soon after exploding, and are now watching it become even brighter.
"Observing [the supernova] unfold should be a wild ride. It is an instant cosmic classic," said the Berkeley scientist who first spotted the supernova, Peter Nugent, in a statement.