Escondido Water Main Break Causes Sinkhole
A SigAlert has been issued on Washington Avenue between Waverly Place and Juniper Street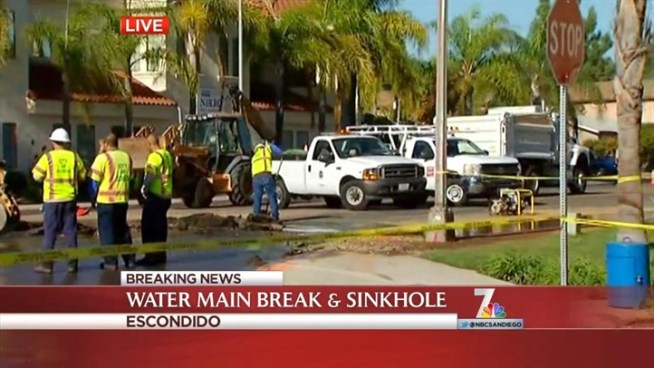 A large water main break on Washington Avenue, a busy street in Escondido, caused a sinkhole -- and long delays for drivers. NBC 7's Nicole Gomez reports.
A large water main break in Escondido Friday caused a sinkhole and some road closures, officials confirmed.
The water main break was reported to police just before 2 p.m. at Washington Avenue between Waverly Place and Juniper Street.
Escondido police and fire crews responded to the scene and issued a SigAlert on Washington Avenue in the impacted area.
A tweet posted to the Escondido Police Department Twitter page around 2 p.m. read:
"Escondido Advisory: SigAlert issued for Washington Ave due to a sink hole between Waverly & Juniper. Road closed indefinitely for repair."
Police say the water main break spans over three lanes of traffic and is causing major delays for motorists in the area.
At this point, dispatch officials said a few businesses in the area are being impacted by the water main break, including a Salvation Army. There is no word yet on how many homes, if any, have been affected.
As of 3 p.m., authorities could not estimate a time of repair just yet. However, crews are on scene assessing the situation and making repairs.
Check back for updates on this developing story.