Public Meeting to Focus on SR-67 Improvements
The improvements are designed to reduce the number of accidents along the East County freeway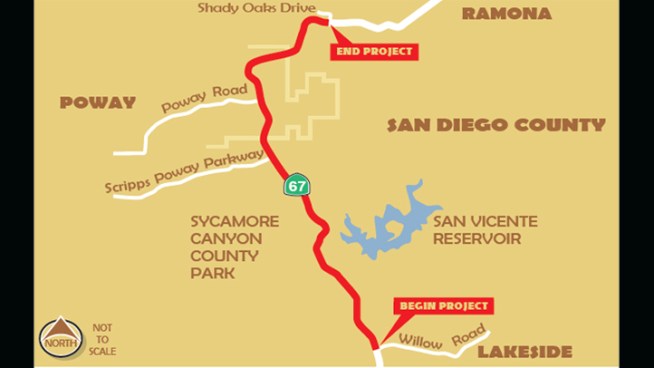 Caltrans
Potential improvements for this stretch of SR-67 will be discussed at a public meeting Thursday in Ramona.
A public meeting is slated for Thursday evening in Ramona to discuss potential improvements for a portion of State Route 67, Caltrans officials announced.
The public scoping meeting will be held from 4 p.m. to 7 p.m. at Olive Pierce Middle School located at 1521 Hanson Lane.
Caltrans says the meeting is the very first phase in open community discussions regarding possible improvements for the stretch of SR-67 that spans between Willow Road and Shady Oaks Drive through Lakeside, Ramona and Poway.
Special displays at the meeting will depict what is being proposed for the stretch of roadway. Potential improvements include various types of median barriers designed to reduce the number of accidents on SR-67.
A comment table will be set up at the meeting so the public can voice their opinions.
Caltrans says comments on this potential project can also be mailed to the Caltrans District Office at the following address:
4050 Taylor Street MS-121
San Diego, CA 92110
Comments may also be emailed to: ct.public.information.d11@dot.ca.gov