Home Remedies for That Hangover
Hangover remedies range from the practical to the bizarre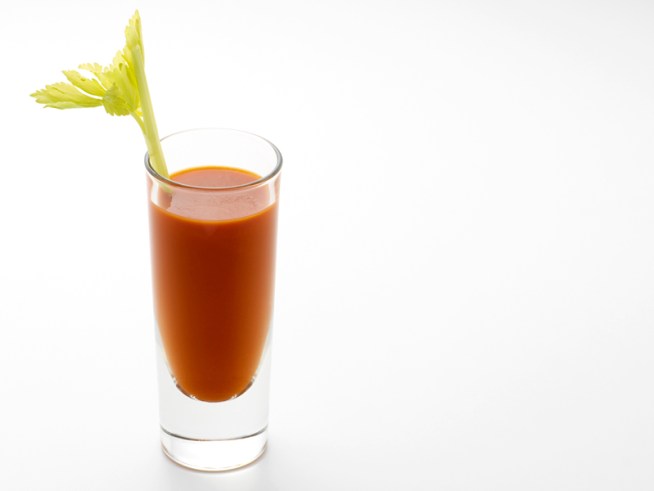 Getty Images
If you're going for "the hair of the dog" -- another dose of alcohol, which does help some people -- try a Bloody Mary complete with the celery stick, which will replenish important electrolytes and vitamins.
There is no "silver bullet" for curing a hangover, but ask just about anyone you know and you'll get a home remedy to cure the post-partying blues.
"Grease, water and alcohol seem to be three popular themes when it comes to battling a hangover" said Melissa Newman, a bartender at the Gaslamp Tavern.
Newman recommends a bacon cheese burger topped with fried egg.
"The grease and salt help your hangover, and putting a good amount of food in your stomach helps, too," Newman said. "Eggs are also a good source of cysteine, which helps break down toxins from alcohol."
As for the drink: How about a Bloody Mary?
"Your body is begging for more alcohol, so the vodka gets you some of that much-needed 'hair of the dog,' and the tomato and veggies provide you with the vitamins," said Newman.
Different cultures have different approaches to curing that morning-after headache, and some seem just as bad as the hangover itself. Here's a sampling:
Cowboy Cure: Back in the days of the wild west, drunken cowboys would cure their hangover by drinking tea made out of dried rabbit droppings.
The Chimney Sweep Cure: 19th-century chimney sweeps claimed to get rid of their morning-after shakes by drinking warm milk flavored with a dash of soot.
Russian Remedy: Called a Royal Peter, it blends warm brandy with lots of pepper
Aussie Cure: Sauced-up Australians solve their day-after drinking dilemma by gulping down a raw egg seasoned with salt, vinegar and cayenne pepper
Middle Ages Remedy: Some knights of old used to battle their drinking blues by chowing down on bitter almonds and raw eels
Puerto Rican Cure: In Puerto Rico, some people rub half a lemon under their armpits
Mongolian Nightmare: Drunks in outer Mongolia prefer slurping pickled sheep's eyes in tomato juices to Bloody Marys