Find Your Race
Looking for a specific race? Search by locality name, candidate, office, proposition number or description.
You Might Like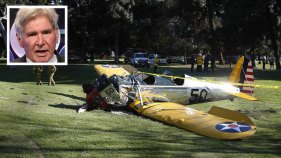 Harrison Ford's family says the actor is "battered, but OK" after crash landing a single-engine vintage plane onto a Venice golf course shortly after takeoff Thursday. Ford was expected to undergo surgery...
A person was killed in Encinitas Thursday after being hit by a train.
A 7-month-old infant has died after she and her father, who was pushing her in a stroller, were hit by a car in Point Loma Monday.