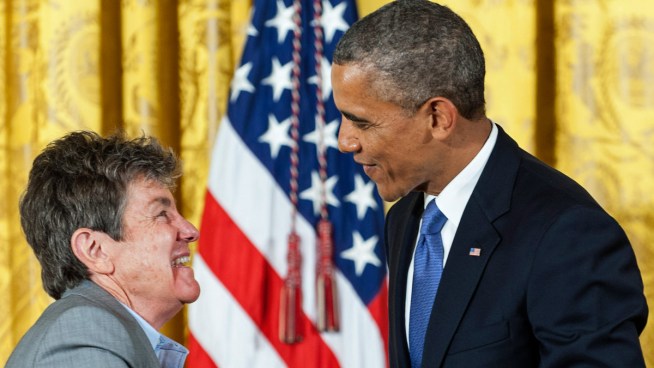 U.S. President Barack Obama presents a 2012 National Humanities Medal to former Poet Laureate of the United States Kay Ryan during a ceremony in the East Room of the White House in this 2013 photo. (Photo by Pete Marovich/Getty Images)
A former poet laureate of the United States is recovering following injuries sustained when she was hit by a car while riding her bicycle, according to reports.
Kay Ryan, 68, was struck by a car while riding near her home in Fairfax in Marin County, the Marin Independent Journal reported.
Ryan, who served as top poet of the country for two years, from 2008 to 2010, has been recovering since the Jan. 13 accident, according to friends.
The Pulitzer Prize-winner suffered a broken hip socket, broken ribs, a punctured lung, a collarbone fracture and an unspecified head injury, according to a friend.
The crash is "under investigation," according to the newspaper.